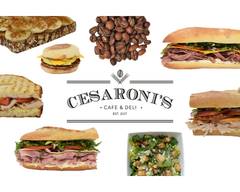 Location and hours
236 Main St, Woodstock, IL 60098
Every Day
6:45 AM - 2:45 PM
LUNCH
7:00 AM - 11:15 AM
BREAKFAST (3PD)
6:45 AM - 2:45 PM
LUNCH (3PD)
6:45 AM - 2:45 PM
COFFEE (3PD)
6:45 AM - 2:45 PM
DRINKS (3PD)
6:45 AM - 2:45 PM
BAKERY (3PD)
Cesaroni's Cafe & Deli -Woodstock
Closed • Available Thursday 6:45 AM
Non-Coffee

We mix the finest Ghirardelli cocoa powder into steamed milk to make the best hot chocolate out there!

Tea

Ginger LemonGrass - Herbal

Iron Goddess of Mercy - Oolong

Fruity, brisk and satisfying, our Traditional Black Iced Tea is a leap in quality above the normal black iced tea. Our top seller!