Cali BBQ - Aztec Food Hub Menu and Delivery in San Diego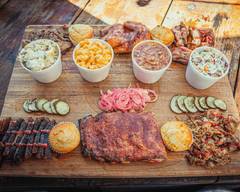 Location and hours
6334 El Cajon Boulevard, San Diego, CA 92115
Sunday
12:00 PM - 08:00 PM
Monday
Closed
Tuesday - Friday
04:00 PM - 10:00 PM
Saturday
12:00 PM - 08:00 PM
Cali BBQ - Aztec Food Hub
4.5 (22 ratings) • BBQ
  •  
More info
6334 El Cajon Boulevard, San Diego, CA 92115
Tap for hours, address, and more
Enter your address above to see fees, and delivery + pickup estimates.
Picked for you

Utensils

Do not include utensils in my order.

Please include utensils in my order.

Tailgater BBQ Feast

Meats By The Pound

Plates

Sandwiches

Chris Ello's Pulled Pork Sandwich

Jake Palet's Cheese Steak

Beverages

Sides

Retail Jalapeno BBQ Sauce

Served with French Vanilla Ice Cream a la mode(in separate container).

Mac N Cheese loaded with diced bacon, jalapeno and extra chedda!