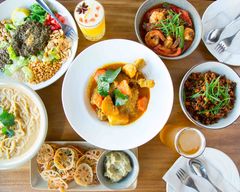 Location and hours
211 Valencia St, San Francisco, CA 94103
Sunday - Thursday
11:30 AM - 03:00 PM
Menu
05:00 PM - 10:00 PM
Menu
Friday - Saturday
11:30 AM - 03:00 PM
Menu
05:00 PM - 10:30 PM
Menu
Burma Love
4.8 (100+ ratings) • Burmese • $$
  •  
Read 5-Star Reviews
  •  
More info
211 Valencia St, San Francisco, CA 94103
Tap for hours, address, and more
Pickup
10–20 min • 1000+ mi
Picked for you

Rainbow Salad

Burmese Curries

Minced Chicken With Fresh Mint

Appetizers

Home Made Yellow Bean Tofu

Soups

Mohinga (Catfish Noodle Soup)

Gluten-Free

Vegetarian Samusa Soup

Coconut Chicken Noodle Soup

(Gluten Free Upon Request)

Salads

Rainbow Salad

(gluten-free and vegan upon request)

Sweet Ginger Salad

vegan & gluten-free

Inle Tomato Salad

gluten-free (vegan upon request)

(Gluten Free Upon Request)

Samusa Salad

Main Dishes

Burmese Curries

Gluten-Free & Staff Favorite

Wok-Tossed Chili

Gluten Free and Staff Favorite

Kebat

Pork Belly With Ginger And Chili

Gluten-Free Upon Request

Pork Belly with Mustard Green

Staff Favorite (Gluten-Free Upon Request)

Chicken with Fresh Basil

Gluten-Free

Minced Chicken With Fresh Mint

Staff Favorite (Gluten-Free Upon Request)

Mango Chicken

Gluten-Free

Sesame Chicken Strips

Gluten Free

Fiery Vegetables with Tofu and

Gluten Free and Staff Favorite

Vegetables and Tofu

Organic Tofu with Fresh Mint

vegan (gluten-free upon request)

Pea Shoots

vegan, gluten free and staff favorite

Vegetarian Curries

vegetarian & gluten-free

Fiery Braised Organic Tofu

Wok Tossed Broccoli

vegan, gluten-free and staff favorite

Seafood

Lemongrass Salmon

Gluten Free

Superstar Shrimp

Gluten Free

Shrimp with Garlic and Chili

Shrimp with Myanmar Chutney

Gluten Free

Noodles and Rice

Shan Noodles

Gluten Free

Nan Pia Dok

Gluten Free

Superstar Vegetarian Noodles

vegetarian. vegan and gluten free upon request

(Gluten Free upon Request)

Spicy Noodles

Gluten Free

Superstar Chicken Fried Rice

Vegetarian (Vegan and Gluten Free Upon Request)

Rice and Bread

Beverages

Ginger Wellness Shot(2oz)

Alcohol

Yalumba Y Series Sauvignon 2019, 750ml bottled wine (13.5% ABV)

Burma Love Foods / Products

Burma Superstar Cookbook (Signed)

Anchovy Sauce + Cookbook Bundle
5-Star Reviews
Hear from people who love this spot
It's da bomb when you're in the mood for that MANGO CHICKEN and the best string beans☺️☺️☺️☺️
---
Amazing food and clearly labeled gluten free options!
---
---
---
I love minty chicken and theirs specifically.
---
---
Amazing food, trackea well, and love the packaging
---
Taste food, quick delivery great cost benefit
---
The friendliest service and the BEST salads on the planet!
---
This has become my favorite place in San Francisco! I'm always excited to have family or friend visitors try it and they are always amazed by how good it is as well. My go-to dish is mango chicken with coconut rice! but everything is delish.
---
Tasty Burmese food, especially their Chicken Noodle soup and tea leaf salad.
---
---
Subhash Chandra Mahesh K.
4 months ago
Delicious food and amazing quality ingredients.
---
Love their food so much!!
---
---
---
Love this place!! One of my top places in SF!! The shrimp and broccoli are SO GOOD
---
---
---
---
Delicious and consistent Burmese food that I love!!
---
I love the restaurant. Delicious food!!
---
The food and flavors are amazing!!
---
delicious, freshest of ingredients, thoughtfully packed…and addictive fried calamari that arrives crispy!
---
---
Fresh food delicious and healthy!
---
The food was delicious here usually take it I don't expect that much but this place surprised me
---
Delicious food with wonderful flavor
---
Burma has delicious and healthy options!
---
---
---
Their food is consistently good and never disappoints. The menu is broad and has a lot of variety so it can fit your mood any day. We oove Burmese food and think they also makenit great!
---
---
Delicious! The meat is always so tender and the spices just right..
---
delicious food and packaged nicely
---
fast service and amazing food
---
---
Love the garlic noodles and tea salad! Quick delivery too.