Burger Bar Menu and Delivery in San Jose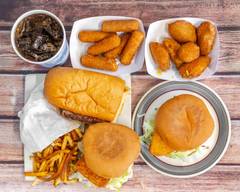 Location and hours
1101 S 1st St, San Jose, CA 95110
Every Day
10:00 AM - 10:00 PM
Burger Bar
4.6 (25 ratings) • Burgers • $
  •  
Read 5-Star Reviews
  •  
More info
1101 S 1st St, San Jose, CA 95110
Tap for hours, info, and more
Enter your address above to see fees, and delivery + pickup estimates.
This place is one of Uber Eats users' 10 favorite delivery spots in Hollywood. Wondering what's the best thing on the menu at this evening go-to? Users love the Family Fries, which is one of the most popular items on the menu, as well as the Burger and the Grilled Cheese Sandwich, which are two of the items most commonly ordered together. • $ • Burgers
 • 
American
 • 
Sandwiches
Picked for you

5 burgers with mayonnaise and relish.

Burgers

1/4 lb patty with bacon, lettuce, onion, ketchup, and cheese.

1/4 lb patty with lettuce, onions, relish, mayonnaise and Cheese.

1/2 lb patty with lettuce, red onion, pickles, tomato, and cheese.

Fries and Sides

Loaded with chili and Cheddar cheese.

Mozzarella Sticks (6 pcs)

Chips with nacho cheese and jalapenos.

Chips with nacho cheese, chili, and jalapenos.

Jalapenos Poppers (6 pcs)

Jalapenos filled with Cheddar cheese.

Side of whole or sliced jalapenos.

Chicken and Things

Breaded pollock patty, lettuce, and tartar sauce.

3 pcs order, regular fries and a dinner roll.

Breaded chicken patty, lettuce, and mayonnaise.

Grilled Cheesesteak Sandwich

Popcorn shrimp served with an order of fries.

Fried beef taco with lettuce and Cheddar cheese.

Fried beef and bean burrito.

Egg, bacon, cheese, and mayonnaise on a bun.

Drinks and Sweets

Crispy pastry with warm apple filling.
5-Star Reviews
Hear from people who love this spot
We grew up on the bags of burgers with heart atack family fries. oh and the fried chicken meal . Still the best Relish burger I've eaten to this day!
---
Really good food. Always cooked the same. Been going here for over a decade and don't plan on stopping.
---
Price is good and good burgers.
---
I grew up eating there and my great uncle worked there as a teen.
---
---
Nostalgic. I love it every time.
Frequently asked questions
Can I order Burger Bar delivery in San Jose with Uber Eats?
Yes. Burger Bar delivery is available on Uber Eats in San Jose.
Is Burger Bar delivery available near me?
Burger Bar delivery might not be available everywhere in San Jose, so enter your address to see if it's available near you.
How do I order Burger Bar delivery online in San Jose?
There are 2 ways to place an order on Uber Eats: on the app or online using the Uber Eats website. After you've looked over the Burger Bar menu, simply choose the items you'd like to order and add them to your cart. Next, you'll be able to review, place, and track your order.
What's the best thing to order for Burger Bar delivery in San Jose?
What's best at Burger Bar is totally up to you and your personal preference. If you're in need of some inspiration, consider trying one of the items featured in "Picked for you."
How do I get $0 Delivery Fee at Burger Bar in San Jose?
The Delivery Fees may vary depending on a number of factors, like your location. Enter your San Jose address to see the current Delivery Fee. You can also explore the Uber Eats membership and subscription options available in your area to see if you can save money on Burger Bar delivery with $0 Delivery Fee on select orders.