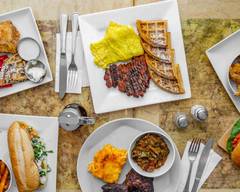 Location and hours
434 Hancock Street, Brooklyn, Ny, 11233, NY 11233
Sunday
8:00 AM - 4:30 PM
Menu
Monday - Wednesday
8:00 AM - 6:00 PM
Menu
Thursday - Friday
8:00 AM - 6:00 PM
Menu
8:00 AM - 4:30 PM
Menu
Saturday
8:00 AM - 4:30 PM
Menu
Brooklyn Waffle House 2
Closed • Available at 8:00 AM
What customers are saying

Reviews from people who've ordered here

JW

the Waffle Sauce is WORTH IT!!!

CM

delicious food

BW

Chicken and waffles exceeded my expectations waffle was fluffy and soft

MH

Quick delivery

FC

Best food ever.

CJ

The Food is excellent and the Bogo Is a strong incentive ❤❤❤

MN

good stuff

DD

The shrimp and grits?! HEAVEN!

KT

Everything was fresh. It was more than I expected.

JP

satisfying

CK

Food was so delightful! I would definitely order again!

CE

food was good

DB

Food was good, love the creativity!

DS

Quick

KH

Food was really good.

TS

Chicken fried perfect and the Oreo waffles were delicious

JM

Loved the food like always. Definitely my new favorite go to Breakfast spot‼️

YB

AMAZING DESPITE DELIVERY TAKING A WHILE

JW

Best chicken and waffles I personally ever had!

EM

So good! Chicken was some of the best I've had, eggs were delicious as well

AT

I never post reviews, but DAYUM!!!! That was f*ing amazing chicken and waffles! Whoever's...

LP

The waffles are the best I've ever had!

TS

Delicious food

LT

The waffles are AMAZING!!!!! Shrimp fried to perfection! Chicken just melted! Will...

BM

The fried chicken was delicious and the waffles paired well with the sweet cream sauce.

MJ

The food was tasty and amazing

DW

Got the shrimp and buttermilk waffles and they were amazing. Perfectly seasoned. Great...

AP

Super tasty waffles and chicken was made perfectly. Thanks for the birthday drink as well,...

IG

Amazing chicken, not over battered. Great waffle. Just a little sad it came soggy but...

KV

Good service. Good food

GM

We've ordered chicken and waffles several times from the Hancock location and we're very...

AW

delicious

KT

The fried chicken was very tasty & crispy I will definitely order again

DS

Amazing

Chicken or Shrimp Waffles
What customers are saying
Reviews from people who've ordered here
JW
the Waffle Sauce is WORTH IT!!!
---
CM
---
BW
Chicken and waffles exceeded my expectations waffle was fluffy and soft
---
MH
---
FC
---
CJ
The Food is excellent and the Bogo Is a strong incentive ❤❤❤
---
MN
---
DD
The shrimp and grits?! HEAVEN!
---
KT
Everything was fresh. It was more than I expected.
---
JP
---
CK
Food was so delightful! I would definitely order again!
---
CE
---
DB
Food was good, love the creativity!
---
DS
---
KH
---
TS
Chicken fried perfect and the Oreo waffles were delicious
---
JM
Loved the food like always. Definitely my new favorite go to Breakfast spot‼️
---
YB
AMAZING DESPITE DELIVERY TAKING A WHILE
---
JW
Best chicken and waffles I personally ever had!
---
EM
So good! Chicken was some of the best I've had, eggs were delicious as well
---
AT
I never post reviews, but DAYUM!!!! That was f*ing amazing chicken and waffles! Whoever's working the kitchen today truly has a gift. Possibly the greatest fried chicken I've ever had. I think I might believe in God now.
---
LP
The waffles are the best I've ever had!
---
TS
---
LT
The waffles are AMAZING!!!!! Shrimp fried to perfection! Chicken just melted! Will definitely order again!
---
BM
The fried chicken was delicious and the waffles paired well with the sweet cream sauce.
---
MJ
The food was tasty and amazing
---
DW
Got the shrimp and buttermilk waffles and they were amazing. Perfectly seasoned. Great portion for the price. Would definitely order again!
---
AP
Super tasty waffles and chicken was made perfectly. Thanks for the birthday drink as well, super yummy!
---
IG
Amazing chicken, not over battered. Great waffle. Just a little sad it came soggy but taste amazing ! Especially the Oreo waffle ❤️
---
KV
---
GM
We've ordered chicken and waffles several times from the Hancock location and we're very satisfied with our orders. The chicken is well seasoned, fried crispy on outside and moist inside, and ALWAYS delivered hot! 👍🏽
---
AW
---
KT
The fried chicken was very tasty & crispy I will definitely order again
---
DS