Brewer's Fork Menu and Delivery in Boston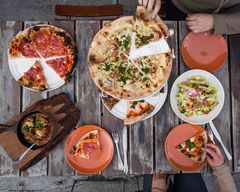 Location and hours
7 Moulton Street, Boston, MA 02129
Sunday
5:00 PM - 8:30 PM
TAKEOUT MENU DINNER
3:00 PM - 5:00 PM
MIDDAY (uber)
5:00 PM - 8:30 PM
DINNER (uber)
10:30 AM - 3:00 PM
BRUNCH (uber)
Monday - Friday
5:00 PM - 9:30 PM
TAKEOUT MENU DINNER
11:30 AM - 3:00 PM
LUNCH (uber)
3:00 PM - 5:00 PM
MIDDAY (uber)
5:00 PM - 9:30 PM
DINNER (uber)
Saturday
5:00 PM - 9:30 PM
TAKEOUT MENU DINNER
3:00 PM - 5:00 PM
MIDDAY (uber)
5:00 PM - 9:30 PM
DINNER (uber)
10:30 AM - 3:00 PM
BRUNCH (uber)
Brewer's Fork
7 Moulton Street, Boston, MA 02129
Enter your address above to see fees, and delivery + pickup estimates.
Picked for you

genoa salami, tomato sauce & mozzarella, local hot honey

romaine, spiced VT goat's milk feta, tomato, radish, cukes, red onion, lemon, evoo, sumac, mint, felix's sesame flatbread

tomato sauce, pecorino, parsley
*contains dairy*
*contains gluten*

roasted brussels, avocado-lime puree, cilantro, jalapeno, salsa macha

red sauce, mozzarella, thick cut pepperonis…classic

Beer, Wine & Cider: Must Be Purchased with Food

11.2 oz
Aval cider combines four types of apples picked exclusively giving it a crisp and citrusy taste, a delightful balance of subtle sweetness and refreshing bitterness.

Mosaic-hopped pale ale bursting with dank citrus and stone fruit notes, apricot, mango, and a hint of berry. Mild bitterness in the finish.
6% ABV
Chicago, IL

Zero Gravity Duck, Duck, Juice

11.2 oz
The Rochefort 8 is a beer to be savoured at your leisure. Not too dense, it goes down easily, quietly sparkling. The alcohol in the finish never lets you forget that this is an authentic degustation beer, one that cannot be hurried along. It is sweet and chocolatey, pleasant but certainly never boring. The same can be said of the alcohol content – it makes itself known, but it never overpowers, leaving plenty of room for all the rich subtlety to be found in a glass of the 8

2019 Fanus Syrah/Nero D'Avola

Sicily, Italy
Full-bodied red w/ structured tannins, dark berry/black fruit, spice

375 ml
Naturally sparkling completely dry cider made from heirloom and bittersweet apple varieties

Isategi Sagardo Natural Cider

This cider has a golden-green hue in the glass. Ripe notes of apple on the nose leads to an acidic, malted apple on the palate. The finish is crisp and fresh. Very complex cider with lots of flavoring

2021 Prana Rioja Tempranillo

100% Tempranillo
Rioja, Spain
bright red fruit, juicy, minerality and earth

2020 La Fruitiere Chardonnay

A dry, crisp chardonnay from the Loire. Notes of apple, minerality with balanced acidity.

11.2 oz
Whisky lovers will no doubt appreciate this beers warming glow. This red-brown beer has aromas of roast wheat, fruit (figs, cherries), nuts and dark chocolate. In the mouth you will get a prominent taste of caramel, chocolate, ripe fruits and herbal touches of hops. All of these linger until the finish. Connoisseurs compare this beer with wine, whisky and port.

Eden Imperial 11 Rose Cider

375 ml
Imperial 11° Rosé cider has the body, alcohol level and juiciness of a delicious drier rosé wine. It is made only from apples and red currants. No added sugar, coloring or other flavoring

Orval beer is a high fermentation beer. The ageing process adds a fruity note, which strikes a subtle balance between the beer's full-bodied yet complex flavour and bitterness.

The beer was first brewed in 1931 and owes its unparalleled taste to the quality of the water, the hops and the yeast used. The brewery has selected very aromatic and unique hop varieties, which hark back to the first brewmaster of Orval, who hailed from Bavaria. The beer's aromas are very pronounced while maintaining the right level of bitterness thanks to the English method of dry hopping.

The various stages of fermentation – combined fermentation with the original yeast and with wild yeast, followed by fermentation in the bottle – mean the beer must age for some time and requires numerous quality controls.

Unfiltered Czech-style pilsner. Triple-decocted for complex notes of bread crust, sourdough, and honey with a grassy, herbal hop nose.
5.5% ABV
Littleton, NH

2021 Terredora DiPaolo Falanghina

100% Falanghina
Iripina, Italy
fruity, floral, dry

2017 Kuhling-Gillot Riesling

Dinner Specials

Plates

Pizza

Drinks
5-Star Reviews
Hear from people who love this spot
Amazing quality and somehow the carrots were still piping hot! Well done team. Thanks for a great dinner
---
One of the best clam pizzas we've ever had!
---
The combination of flavors in the Denzel Squashington was amazing! 5/5
---
---
---
Delicious meatballs and sauce!
---
---
Great food and it's close by!
---
Absolutely the best pizza in Boston
---
---
Frequently asked questions
Can I order Brewer's Fork delivery in Boston with Uber Eats?
Yes. Brewer's Fork delivery is available on Uber Eats in Boston.
Is Brewer's Fork delivery available near me?
Enter your address to see if Brewer's Fork delivery is available to your location in Boston.
How do I order Brewer's Fork delivery online in Boston?
There are 2 ways to place an order on Uber Eats: on the app or online using the Uber Eats website. After you've looked over the Brewer's Fork menu, simply choose the items you'd like to order and add them to your cart. Next, you'll be able to review, place, and track your order.
Where can I find Brewer's Fork online menu prices?
View upfront pricing information for the various items offered by Brewer's Fork here on this page.
How do I get free delivery on my Brewer's Fork order?
To save money on the delivery, consider getting an Uber One membership, if available in your area, as one of its perks is a $0 Delivery Fee on select orders.
How do I pay for my Brewer's Fork order?
Payment is handled via your Uber Eats account.
What's the best thing to order for Brewer's Fork delivery in Boston?
If you're in need of some suggestions for your Brewer's Fork order, check out the items showcased in "Picked for you" on this page.