Bread Furst (Cleveland Park) Menu and Delivery in Washington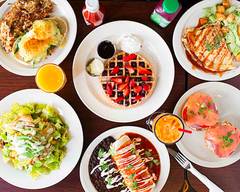 Location and hours
4434 Connecticut Ave Nw, Washington, DC 20008
Sunday - Wednesday
08:30 AM - 05:30 PM
Menu
Thursday
08:00 AM - 05:30 PM
Menu
08:30 AM - 05:30 PM
Menu
Friday
08:30 AM - 05:30 PM
Menu
12:00 PM - 05:30 PM
Menu
Saturday
08:30 AM - 05:30 PM
Menu
Bread Furst (Cleveland Park)
4.9 (166 ratings) • Family Friendly • $$
  •  
More info
4434 Connecticut Ave Nw, Washington, DC 20008
Tap for hours, address, and more
Enter your address above to see fees, and delivery + pickup estimates.
Of all the delivery spots in Van Ness, Bread Furst is among the 10 places with the most orders. Wish you could ask someone what's popular here? The Soup is one of the most ordered items on the menu and the Ham & Cheese Baguette and the Baguette are two of the items most commonly ordered together at this morning go-to. • $$ • Family Friendly
Picked for you

Pastry

Espresso Shortbread Cookies

Biscotti - Fennel Pistachio

Oatmeal, Sea Salt, & Dried Cherry Cookies

Breads

Savory Breakfast

Savory Foods

Buckwheat & Brussels Sprouts Salad

Picnic Pack - Charcuterie

Lunch Sandwiches

Salads

Artichoke & White Bean Salad

Drinks

Fresh Squeezed Orange Juice

Milk - Chocolate Individual

Grocery

Sweet Ellas Peanut Butter - Smooth

Sweet Ellas Peanut Butter - Chunky
Allergens: These items may include unlisted ingredients and/or be prepared on equipment that processes allergens. Take precautions if you have an allergy.