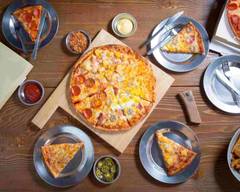 Location and hours
1053 Park Street, Jacksonville, FL 32204
Sunday
12:00 PM - 11:30 PM
Monday - Thursday
11:00 AM - 11:35 PM
Friday - Saturday
11:00 AM - 01:30 AM
Too far to deliver
Biggie's Pizza (Riverside - Five Points)
4.6 (200+ ratings) • Pizza • ¢
  •  
More info
1053 Park Street, Jacksonville, FL 32204
Enter your address above to see fees, and delivery + pickup estimates.
This spot is not only one of the hottest Jacksonville delivery spots on Uber Eats, but it's also one of the city's 3 most popular places for Pizza takeout. Love wings as much as the rest of your city? You'll be happy to know they're offered at Biggie's Pizza. • ¢ •
Pizza
 • 
American
 • 
Italian
 • 
Salads
Picked for you

By the Slice

The Brooklyn Deluxe Slice

The Queen Margarita Slice

Appetizers

19" Create Your Own Pie

19" Gourmet Pies

19" Benny Blanco from the Bronx Pie

Tony the Boss's Mediterranean Pie

Calzones

The Barbecue B.I.G. Calzone

The Brooklyn Deluxe Calzone

The Hawaiian Luau Calzone

The Loaded Veggie Calzone

The Lucky Luciano Calzone

The Queen Margarita Calzone

Tony the Boss's Mediterranean Calzone

Drinks

Salads

Desserts

Misc.