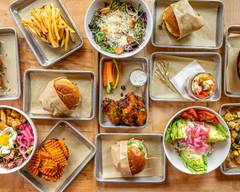 Location and hours
1501 West Main Street, Richmond, VA 23220
Every Day
11:00 AM - 12:30 AM
Menu
11:00 AM - 10:30 PM
Alcohol
Beauvine Burger Concept
1501 West Main Street, Richmond, VA 23220
Sweet Potato Waffle Fries

Beer Battered Onion Rings

Artisan Burgers

House Pimento Cheese, Applewood Bacon, Raw Red Onion, Tomato, Bibb Lettuce, Mayo

Build Your Own

Snacks

Smoked Gouda Macaroni and Cheese Arancini

96% (85)

Salads

Accomplices

Handcrafted Sodas

Shakes

Other Beverages
Save 25%. Conditions apply.
5-Star Reviews
Hear from people who love this spot
Incredible signature burger
---
---
---
Love the gluten free options!
---
---
delicious and locally sourced. not your everyday burger joint. you will not be disappointed.
---
my favorite burger in Richmond
---
---
One of the best burgers in RVA
---
They take their time to prepare and present the food!
---
The best burgers in Richmond.
---
Simple, high quality, good portions
---
---
---
Best burger and onion rings in richmond
---
Best burger and fries in town!
---
Juicy burgers and amazing truffle fries! We love this place. Also the Mac and cheese bites are flavorful and delicious!!!
---
The burgers are top notch.
---
---
---
My good to place for a burger! If you get it delivered just make sure to not hot and crispy for your fries
---
Great burger and they got the most part get fries hot
---
---
---
---
happy to be able to order as late as I did - always tasty though the vegan burger did taste quite burnt
---
I've never had a bad or incorrect order from this place. I get exactly what I ask for every time, and when you go in person the staff are super nice. Stellar spot
---
---
Best burger and fries I have had !!
---
first time ordering and the veggies were divine. the burger was nice too just wish a sauce was on it or something that would make it pop more
---
fantastic burgers and onion rings! even waiting for uber to deliver food is bs better than any other burger choices.
---
Thank you for being careful to make sure my food was GF 😁
---
---
---
Best burger in the city. My order got messed up but you guys somehow ended up making it better than what I ordered. Like tf well played.
---
delicious, high quality food! green salad was FRESH. The wings were very good and loved the shake! 2👍👍
---
---
#1 you guys deserve an award
---
The burgers were AMAZING. Definitely the place to go if you want a delicious burger.
---
---
"They give you what your asking for, the best burgers in Richmond ""I LOVE THIS PLACE"""
---
---
---
---
Good burgers and shakes. Killer o rings
---
perfect burgers every time
---
I come to Richmond for only two things; getting tattoos and eating at Beauvine.
---
Are you kidding me….incredible…the maple shake is mind blowing. Great burger and rings too!
---
---
Always good & hot when delivered
---
Best burger I had in so long!! Mac and cheese bites are to die for. The salad is very yummy as well. Def coming back soon
---
---
---