Beagle Menu and Delivery in Cambridge and East Anglia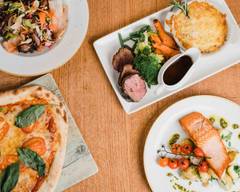 Location and hours
Hadleigh Road,Sproughton, IPSWICH, IP8 3AR
Sunday
12:00 PM - 09:00 PM
Monday - Wednesday
12:00 PM - 09:00 PM
Thursday - Saturday
12:00 PM - 10:00 PM
Beagle
Enter your address above to see fees, and delivery + pickup estimates.
Picked for you

HUNTER'S CHICKEN SCHNITZEL

topped with a creamy white cheese sauce

BUNDLES

SIGNATURE BURGER & BEER (PERONI)

SIGNATURE BURGER & NON-ALCOHOLIC BEER

SIGNATURE BURGER & SOFT DRINK

STARTERS

SQUASHSAGE & MUSHROOM ROLL* (VE)

KING PRAWN & MANGO COCKTAIL*

MAPLE-GLAZED CHICKEN WINGS

OVEN-BAKED BUTTON & PARIS BROWN MUSHROOMS (V)

MAINS

HUNTER'S CHICKEN SCHNITZEL

BEEF RIB WITH MISO BUTTER*

VEGETABLE PENANG CURRY (VE)

STONE-BAKED PIZZAS & SALADS

Mixed fresh leaves, baby spinach, pomegranate seeds, mixed grains and red peppers dressed with pineapple & ginger dressing

Batavia & baby gem lettuce, Cardini dressing, Gran Moravia cheese, anchovies, crispy smoked pancetta, sliced grilled chicken breast and garlic & pesto flat bread

STEAKS

BURGERS

MOVING MOUNTAINS® BURGER (V)

MOVING MOUNTAINS® BURGER (VE)

LUNCH

COD FISH FINGER SANDWICH*

beer-battered cod goujons and tartare sauce on a rustic roll (*contains alcohol)


chargrilled chicken breast, smoked Cheddar and smashed avocado with maple & wholegrain mustard on toasted sourdough


HOT BEEF BRISKET SANDWICH

with beef-dripping sauce and pickled pink onions on toasted sourdough


roasted red peppers, gem lettuce and slaw in a beetroot & chia seed wrap

SIDES

GARLIC & CHEESE MUSHROOMS (V)

PUDDINGS

DOUBLE CHOCOLATE BROWNIE (V)

STICKY TOFFEE PUDDING (V)

BAKED VANILLA CHEESECAKE (V)

CHILDRENS

topped with a creamy white cheese sauce

pasta tubes in tomato sauce


broccoli, mushrooms & red pepper, chargrilled on a skewer


SOFT DRINKS

J2O ORANGE & PASSIONFRUIT 275ML

ALCOHOLIC DRINKS

Brewed and bottled in Italy to create a delicate balance of bitterness and citrus aromatic notes, with a crisp, refreshing finish.

Brewed in Mexico since 1925 using the finest quality ingredients, Corona is famously light and refreshing.

This multi-award winning American-style IPA is multihopped, with powerful citrus aromas & flavours culminating in a remarkably smooth, moreish finish. 330ML

PERONI 0.0% ALCOHOL FREE LAGER 330ML

REKORDERLIG WILD BERRIES 500ML

REKORDERLIG STRAWBERRY LIME 500ML

SANDFORD ORCHARDS DEVON RED

SANDFORD ORCHARDS BERRY LANE

OYSTER BAY, SAUVIGNON BLANC

12.5% vol NEW ZEALAND. Enticing tropical flavours, scented with fragrant passion fruit and a zesty freshness. Crisp, elegant and refreshing.

LUISELLA PINOT GRIGIO BLUSH

CAMPO VIEJ WINEMAKERS ART RIOJA
Missing hygiene rating. Please contact the restaurant should you have any queries.We are not able to provide delivery and self-collection meals for guests with food allergies or intolerances at this time. However, we can cater for specific dietary requirements at our restaurant so please visit and eat in with us instead. Our kitchens use ingredients containing the following allergens: Celery, Cereals containing Gluten, Crustaceans, Egg, Fish, Lupin, Milk, Molluscs, Mustard, Nuts, Peanuts, Sesame, Soya and Sulphites (over 10ppm) and there is a risk of cross contamination from these allergens. For any questions regarding our dishes, please contact the restaurant directly. Click here if you would like to see detailed allergen information, including the allergen content of specific dishes. Adults need around 2000 kcal a day.
Frequently asked questions
Can I order Beagle delivery in Cambridge and East Anglia with Uber Eats?
Yes. Beagle delivery is available on Uber Eats in Cambridge and East Anglia.
Is Beagle delivery available near me?
Beagle delivery might not be available everywhere in Cambridge and East Anglia, so enter your address to see if it's available near you.
How do I order Beagle delivery online in Cambridge and East Anglia?
There are 2 ways to place an order on Uber Eats: on the app or online using the Uber Eats website. After you've looked over the Beagle menu, simply choose the items you'd like to order and add them to your cart. Next, you'll be able to review, place, and track your order.
What's the best thing to order for Beagle delivery in Cambridge and East Anglia?
What's best at Beagle is totally up to you and your personal preference. If you're in need of some inspiration, consider trying one of the items featured in "Picked for you."
How do I get $0 Delivery Fee at Beagle in Cambridge and East Anglia?
The Delivery Fees may vary depending on a number of factors, like your location. Enter your Cambridge and East Anglia address to see the current Delivery Fee. You can also explore the Uber Eats membership and subscription options available in your area to see if you can save money on Beagle delivery with $0 Delivery Fee on select orders.