Banjo's Bakery Café (Sandy Bay) Menu and Delivery in Hobart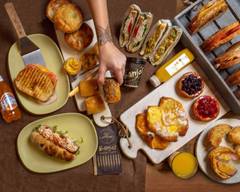 Location and hours
201 Sandy Bay Road, TAS 7005
Every Day
06:00 AM - 05:25 PM
Banjo's Bakery Café (Sandy Bay)
4.7 (47 ratings) • Bakery • $
  •  
More info
201 Sandy Bay Road, TAS 7005
Tap for hours, info, and more
Enter your address above to see fees, and delivery + pickup estimates.
Picked for you

Hot Pastries

12 Sml Savoury Value Deal

Small Spinach & Ricotta Roll

Small Vegetarian Roll (Vegan)

Angel hair spaghetti tangled with a rich meaty bolognese sauce, all encased inside our signature golden pie pastry!

Sandwiches & Pitas

Bread & Rolls

Stoneground Wholemeal High Tin

6 White Or Wholemeal Rolls

Grab 4 Ancient Grain Round Rolls and save!

Ancient Grain Sandwich Loaf

Loaded with 12 types of grainy goodness. Thick Sliced.

Sweet Treats

Muffin + Coffee Value Deal

Traditional Shortbread Biscuit Pack

Raspberry Drop Shortbread Biscuit Pack

Lemon Shortbread Biscuit Pack

Banjo's traditional shortbread, handmade with a fresh citrus tangy centre!

Grab 6 Cheese & Chive Scones and save!

Hot Drinks

Cold Drinks

375ml Hartz Sparkling Water

330ml Rasp Lemonade Kombucha

Shot of our smooth espresso with chilled water and ice - refreshing!

500ml Dare Double Espresso

Breakfast UNTIL 10:30am

Brekkie Toastie + Coffee Deal - Until 10:30am

Muffin + Coffee Value Deal

Hashbrown, Egg & Bacon Brekkie Toastie

Egg & Bacon Brekkie Toastie

Ham Cheese Tomato Brekkie Toastie

Ham & Cheese Brekkie Toastie

Chicken & Cheese Brekkie Toastie

Egg & Bacon B'fast Croissant

Eggs Benedict B'fast Croissant

Ham, Cheese & Tomato B'fast Croissant

AVAILABLE UNTIL 10:30AM
Freshly baked croissant packed with juicy tomato, tasty cheese and delicious leg ham!