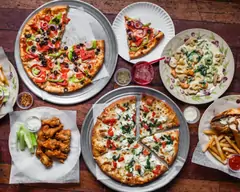 Location and hours
4105 Ming Avenue, Bakersfield, CA 93309
Sunday
11:00 AM - 3:00 PM
Lunch Menu
2:00 PM - 9:30 PM
Menu
Monday
Closed
Tuesday - Thursday
11:00 AM - 3:00 PM
Lunch Menu
2:00 PM - 9:30 PM
Menu
Friday - Saturday
11:00 AM - 3:00 PM
Lunch Menu
2:00 PM - 10:30 PM
Menu
Bakersfield Pizza Co. & Bar
4.6 (51 ratings) • Pizza •
  •  
Read 5-Star Reviews
  •  
More info
4105 Ming Avenue, Bakersfield, CA 93309
Tap for hours, info, and more
Delivery • Pickup
Opens at 11:00 AM
Picked for you

Favorite. Regular wings, boneless, not wings-crispy cauliflower, or mings wings. Crispy panko battered wings tossed in your choice of sauce.

Lunch Specials

Cheesesteak Lunch Sandwich

A cheesesteak sandwich with steak, onion, peppers, and cheese. Served with a side Caesar salad, mac, or fries.

A large lunch slice includes 2 toppings, a side Caesar salad, mac, or fries.

Savory meatballs simmered in our house red sauce with cheese. Served with a side Caesar salad, mac, or fries.

Spicy Pesto Lunch Sandwich

Grilled chicken, jalapeno pesto, red sauce, spinach, tomato & cheese. Served with a side Caesar salad, mac, or fries.

Fried chicken tossed with spicy Nashville sauce, pickles & cheese. Served with a side Caesar salad, mac, or fries.

Fried chicken tossed with buffalo sauce, pickles & cheese. Served with a side Caesar salad, mac, or fries.

Beverages

Sandwiches

Grilled chopped steak or chicken, caramelized onions, bell peppers, mustard, garlic butter, and a melted 3 cheese blend on a delicious focaccia bread roll with fries or house salad.

Juicy roasted pork, ham, chopped pickles, melted cheese blend, mustard, and pressed on the griddle for that panini-style texture.

Breaded chicken Parmigiana, with crispy bacon, mushrooms, and melted cheese with a roasted garlic sauce or a marinara sauce.

Spicy. Tender pork meatballs topped with melted cheese blend, Italian seasonings, and roasted jalapeños with a robust marinara sauce. Served with a dab of habanero on the side.

Salads

Fresh chopped romaine lettuce topped with shaved aged Parmesan, our amazing homemade oven-baked focaccia croutons, chicken, cheese, and Caesar dressing on the side.

Fresh romaine topped with chopped chicken, ham, red onions, cucumbers, hard-boiled egg, cheese, bacon, tomatoes, homemade oven-baked focaccia croutons, diced carrots, and ranch dressing on the side.

Fresh chopped romaine topped with chicken, candied walnuts, almonds, dried cranberries, cucumbers, red onions, cheese, and a champagne vinaigrette on the side.

Starters

A 3 cheese garlic cream mac finished in our brick oven and topped with focaccia bread crumbs.

Delicious fries, wedges, or tots topped with amazing sauces and cheese. Garlic - garlic cream cheese sauce, roasted garlic, and Parmesan. BBQ - BBQ sauce with grilled onions, bacon, and cheese. Pizza-marinara cheese sauce, pepperoni, and Italian spiced garlic fries. Carbonara - roasted garlic cream mushroom sauce with bacon and cheese. Chile Verde - tender pork in a cheesy green chili sauce. Chile Rojo - tender pork in a red chili sauce.

Freshly prepared dough smothered in garlic butter and a 3 cheese blend. Baked in our oven to cheesy perfection.

Thickly sliced zucchini battered and fried to perfection.

Cheddar cheese-filled jalapeños lightly breaded and fried.

Mozzarella cheese sticks breaded in a crispy batter-fried and served with our delicious marinara sauce.

Beer battered onions fried to crispy perfection.

Thinly sliced pickles, beer-battered and fried.

A nice selection of our most loved appetizers like our onion rings, Buffalo wings, fries, jalapeno poppers, and mozzarella sticks.

Juicy chicken strips battered and fried to perfection. Served with a small side of crispy fries.

Favorite. Regular wings, boneless, not wings-crispy cauliflower, or mings wings. Crispy panko battered wings tossed in your choice of sauce.

Sweets

Served warm with chocolate drizzle. Served with a scoop of vanilla ice cream and whipped cream.

Served on a warm graham cracker crust.

Churro bites baked with marshmallows and your choice of raspberry, chocolate, or caramel sauce. Served with a scoop of vanilla ice cream and whipped cream.

Pastry topped with cheesecake batter, cinnamon sugar, and your choice of raspberry, chocolate, or caramel sauce. Served with a scoop of vanilla ice cream and whipped cream.

Chilled root beer with a delicious medley of vanilla and cinnamon brown sugar ice cream topped with whipped cream.

Baked pastry filled with apple or mixed berries. Served with a scoop of vanilla ice cream and whipped cream.

Pizza

Build Your Own Pizza (10" Small)

Build Your Own Pizza (12" Medium)

Signature Pizza (10" Small)

Signature Pizza (12" Medium)

Signature Pizza (14" Large)

Signature Pizza (16" Extra Large)

Small Gluten-Free Pizza
5-Star Reviews
Hear from people who love this spot
Bakersfield pizza co. has the best vegan pizza ive ever had. 10 out of 10. fresh toppings, classic taste. definately reccomend!
---
Best pizza I have had so far in this town.
---
Its got some of the best pizza in town. Its our go to. If i dont have time to go down there then ill just shoot em my order here.