Back Bay Social Menu and Delivery in Boston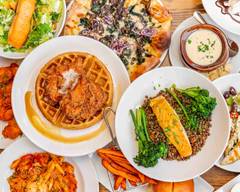 Location and hours
867 Boylston St, Boston, MA 02116
Sunday
03:00 PM - 09:30 PM
DINNER
11:00 AM - 02:30 PM
BRUNCH
Monday
05:15 PM - 09:45 PM
DINNER
Tuesday - Thursday
04:15 PM - 09:45 PM
DINNER
Friday
12:15 PM - 10:45 PM
DINNER
Saturday
03:00 PM - 10:30 PM
DINNER
11:00 AM - 02:30 PM
BRUNCH
Back Bay Social
3.7 (13 ratings) • Burgers • $
  •  
More info
867 Boylston St, Boston, MA 02116
Tap for hours, info, and more
Enter your address above to see fees, and delivery + pickup estimates.
Picked for you

battered, fried cauliflower tossed in buffalo sauce, served with bleu cheese

buttermilk fried chicken, Belgian waffle, maple syrup, whipped butter

Marinated tenderloin steak tips, onion rings, mashed potatoes & broccolini

Shareable

Rhode Island Style Calamari

Cured Meat & Cheese Board

Prosciutto, Coppa, Sec Sausage, Aged Graton Cheddar, Manchego, Fig Preserve, Apricot Mostarda, Pickled Vegetables

Sumac, Cucumber, Carrot, Za'atar Flatbread

parmesan cheese, truffle oil

Soup & Salads

Romaine, tomato, cucumber, pickled red onion, balsamic vinaigrette

heirloom tomatoes, crispy prosciutto, baby arugula, herb pistou, grilled bread


Tomato, bacon, avocado, bleu cheese, hard boiled egg, chicken, red wine vinaigrette

Bowls

Chicken, Rice, Tzatziki, Feta, Olive, Cucumber, Tomato, Roasted Pepper

Jasmine rice, cucumber, carrot, broccoli, spinach, kimchi, and lemongrass soy drizzle.

Rice, pepper, onions, salsa fresca, guacamole, rice, lime crema, cilantro, radish

black bean corn salsa, rice, red peppers, guacamole, jack cheddar cheese, sour cream

Pizzas

Fresh mozzarella, tomato, and basil.

White pizza, mozzarella, arugula, citrus oil, garlic, pear, and balsamic.

grilled chicken, white sauce, bacon, tomato, ranch dressing

grilled buffalo chicken, caramelized onion, bleu cheese crumbles, topped with ranch and scallions

truffled mushrooms, shaved red onion, feta, spinach

mozzarella, hot italian sausage, sweet cherry peppers, chef's specialty sauce

Sandwiches

House- made black bean and mushroom, herb aioli, sweet potato roll

Buttermilk fried chicken breast, pickle, smoked BBQ aioli, sweet potato roll

chopped salmon patty, shaved cucumber, siriacha aioli

Entree

cream tomato broth, red chilies, chrozo, frites

salt & vinegar fries, coleslaw

pan-seared salmon, farro tabbouleh, asparagus, beurre blanc sauce

Beer Battered Fish & Chips

haddock, coleslaw & tartar sauce

grilled 8oz filet, mashed potatoes, asparagus, red wine reduction

Marinated tenderloin steak tips, onion rings, mashed potatoes & broccolini

coconut rice, mango pineapple salsa, lemon butter

tomato vodka cream sauce pipette pasta

shrimp, lemon butter sauce, tomato, pecorino romano, garlic bread

Braised Beef, Veal, Pork, Tomato Ragu, Cream, Parmesamn Cheese, Basil

buttermilk fried chicken, Belgian waffle, maple syrup, whipped butter

Desserts

five-layer chocolate cake, whipped cream

Salted Caramel Cheese Cake
Frequently asked questions
Can I order Back Bay Social delivery in Boston with Uber Eats?
Yes. Back Bay Social delivery is available on Uber Eats in Boston.
Is Back Bay Social delivery available near me?
Back Bay Social delivery might not be available everywhere in Boston, so enter your address to see if it's available near you.
How do I order Back Bay Social delivery online in Boston?
There are 2 ways to place an order on Uber Eats: on the app or online using the Uber Eats website. After you've looked over the Back Bay Social menu, simply choose the items you'd like to order and add them to your cart. Next, you'll be able to review, place, and track your order.
What's the best thing to order for Back Bay Social delivery in Boston?
What's best at Back Bay Social is totally up to you and your personal preference. If you're in need of some inspiration, consider trying one of the items featured in "Picked for you."
How do I get $0 Delivery Fee at Back Bay Social in Boston?
The Delivery Fees may vary depending on a number of factors, like your location. Enter your Boston address to see the current Delivery Fee. You can also explore the Uber Eats membership and subscription options available in your area to see if you can save money on Back Bay Social delivery with $0 Delivery Fee on select orders.