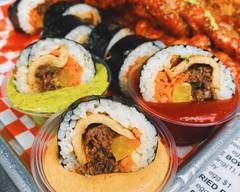 Location and hours
932 Larkin St, San Francisco, CA 94109
Sunday
Closed
Monday - Saturday
11:15 AM - 9:30 PM
Aria Korean Street Food
Closed • Available Monday 11:15 AM
Enter your address above to see fees, and delivery + pickup estimates.
Picked for you

Family Bundles

Family Bundle(KFC10,GFC10,Bulgogi Kimbap)

Korean Tacos

Homies (3 Korean-Mexican Taco Sampler)

Korean Fried Chicken Taco

GangJung Fried Chicken Taco

Korean Fried Chicken

Extra Sweet and Spicy Sauce

Gangjung

Kimbap (Korean Sushi Rolls)

Rice Bowl

Sides

Secret Sauces

Beverages
5-Star Reviews
Hear from people who love this spot
Aria is my favorite go to when in San Francisco. The bulgogi tacos and fried chicken are magically delicious.
---
best street korean food in sf….their red sauce taste like heaven!!
---
The chicken is very flavorful
---
Was only in SF for a week. Tried a few duds then found this spot. Everything was tasty!
---
Get the chicken. Sauce on top. Great taste great portions
---
"""A culinary experience, the taco sampler was a tour-de-force of what Korean fusion can be in the corners of your imagination"
---
Gochujang fried chicken is amazing
---
Delicious food that delivers well. Get the fried chicken and kimchi fried rice.
---
the kimchi rice is delicious, by far the best I've had anywhere
---
The chicken is excellent. The tacos are creative and delicious.
---
Omg i love this place, portions are great, the meat is tasty and the spiciness is on point ✨
---
The quality of the food is amazing! Can't beat the taste!
---
My go to place for kimchi fried rice !
---
Good portion of protein and sauces are just so yummy
---
It's tasty. The food is always fresh.
---
they have a great sweet and spicy sauce and are consistently on point with there KFC Bowl
---
Their KFC is super addictive 🤩 Crunchy yet Juicy, savory flavor goes well with sweet soy & their magical green sauce 👍 Just love love love ❤️ (Portion is very generous as well)
---
the guajuang chicken is amazing. get it everytime
---
The chicken is so addictive that's why! and their service is on point. 😁
---
---
Most incredible chicken in the city, I'm obsessed!
---
Great food, great taste, great price. #2thumbsup
---
I love there food & they always give me extra chicken I love them !
---
The food was hot and tasted great
---
It's always consistently great! Delicious every time
---
---
11th order in 5 months its the best
---
Love the food and price is just right
---
The food is absolutely divine! I could order it everyday if I could
---
You'll never go wrong with this restaurant 💗
---
It's a quick, filling, and yummy go-to when I'm not sure what I want to eat
---
Super good food I order from here a lot
---
The tacos are really good when I go do a pick up their always very nice to me
---
Love aria! Crave that spice
---
This place is it. Bomb af
---
Delicious food with great value!
---
---
---
The best chicken in the whole city. It's addicting.
---
---
The kimbap was amazing and def add kfc to the kimchi fried rice!!
---
Best Korean fried chicken
---
---
---
---
---
---