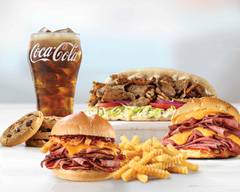 Location and hours
403 Tri County Plaza, CUMMING, GA 30040
Sunday - Friday
10:00 AM - 10:00 PM
Saturday
10:00 AM - 11:00 PM
Arby's (403 TRI COUNTY PLAZA)
Enter your address above to see fees, and delivery + pickup estimates.
Wish you could ask someone what's the best thing to order here? Of the 69 things on the menu at this late night go-to, the Classic Beef 'n Cheddar is one of the most ordered items and the Double Beef 'n Cheddar and the Double Roast Beef are two of the items that are most commonly ordered together. • $ •
American
 • 
Sandwich
 • 
Fast Food
 • 
Kids Friendly
Picked for you

Limited Time Only

Deluxe Wagyu Steakhouse Burger

Bacon Ranch Wagyu Steakhouse Burger

Diablo Roast Beef Sandwich

Ranch 'n Swiss Roast Beef Sandwich

Strawberries & Cream Fried Pie

Favorites

Market Fresh® Sandwiches & Wraps

Crispy Buffalo Chicken Wrap

Roast Turkey Ranch & Bacon Wrap

Crispy Juicy Chicken

Classic Crispy Chicken Sandwich

Slow Roasted Beef

Half Pound Beef 'n Cheddar

Classic French Dip & Swiss

Sliders

Jalapeno Roast Beef Slider

Sides & Snacks

Mozzarella Sticks (4 ea.)

Drinks & Desserts

Classic Market Fresh ™️ Lemonade

Strawberry Market Fresh ™️ Lemonade

Peach Market Fresh ™️ Lemonade

Shamrock Farms® Low-Fat White Milk

Shamrock Farms® Low-Fat Chocolate Milk

REESE'S Peanut Butter Cup Cookie

Salted Caramel & Chocolate Cookie

Kids Meal
5-Star Reviews
Hear from people who love this spot
Arbys is so yummy I mean have you had the jalepeno poppers ?!? Delish.