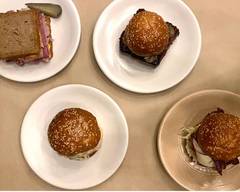 Location and hours
360 Water Street Southeast, Washington, DC 20003
Sunday
10:30 AM - 01:30 PM
Monday - Tuesday
Closed
Wednesday - Friday
10:30 AM - 02:00 PM
Saturday
10:30 AM - 01:30 PM
Delivery
20–35 min • $1.49
Picked for you

Lombard Street Corned Beef

7-oz of hot corned beef piled high on house made Jewish rye, "heavy on the mustard"

6-oz buttermilk fried chicken breast, hot honey, pickles, mayo, & iceberg lettuce on a griddled benne seed bun

7-oz of wood-fired beef, creamy horseradish, bbq sauce, & red onion on a griddled benne seed bun

Wood fired beef, Virginia ham, applewood smoked bacon, egg, roasted red peppers, chimichurri, garlic aioli, red onion, iceberg lettuce, & melted mozzarella on a griddled benne seed bun

Sandwiches & Sides

2 4-oz house ground all chuck burgers, amp sauce, iceberg lettuce, americheddar cheese, sour dills, & white onion, on a griddled benne seed bun

St Louis style ribs & pork shoulder (wood-grilled & bbq basted), sour dills, & red onion on a griddled benne seed bun

7-oz of wood-fired beef, creamy horseradish, bbq sauce, & red onion on a griddled benne seed bun

Lombard Street Corned Beef

7-oz of hot corned beef piled high on house made Jewish rye, "heavy on the mustard"

6-oz buttermilk fried chicken breast, hot honey, pickles, mayo, & iceberg lettuce on a griddled benne seed bun

Wood fired beef, Virginia ham, applewood smoked bacon, egg, roasted red peppers, chimichurri, garlic aioli, red onion, iceberg lettuce, & melted mozzarella on a griddled benne seed bun

Beer

Atlas Silent Neighbor (Stout)

Non-Alcoholic Beverages

Mexicane Coke (Maine Root)

Mountain Valley Spring Water
Frequently asked questions
Can I order Ampersandwich delivery in Washington with Uber Eats?
Yes. Ampersandwich delivery is available on Uber Eats in Washington.
Is Ampersandwich delivery available near me?
Ampersandwich delivery might not be available everywhere in Washington, so enter your address to see if it's available near you.
How do I order Ampersandwich delivery online in Washington?
There are 2 ways to place an order on Uber Eats: on the app or online using the Uber Eats website. After you've looked over the Ampersandwich menu, simply choose the items you'd like to order and add them to your cart. Next, you'll be able to review, place, and track your order.
What's the best thing to order for Ampersandwich delivery in Washington?
What's best at Ampersandwich is totally up to you and your personal preference. If you're in need of some inspiration, consider trying one of the items featured in "Picked for you."
How do I get $0 Delivery Fee at Ampersandwich in Washington?
The Delivery Fees may vary depending on a number of factors, like your location. Enter your Washington address to see the current Delivery Fee. You can also explore the Uber Eats membership and subscription options available in your area to see if you can save money on Ampersandwich delivery with $0 Delivery Fee on select orders.