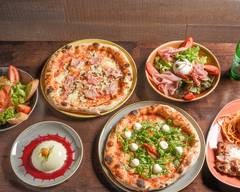 Location and hours
13 Rue Linné, 75005 Paris, France, Île-de-France 75005
Sunday
Closed
Monday - Saturday
11:30 AM - 02:50 PM
Menu
06:30 PM - 10:30 PM
Menu
Amore Mio
13 Rue Linné, 75005 Paris, France, Île-de-France 75005
Accepts Pass Sodexo, Ticket Restaurant®, Bimpli (ex Apetiz), and UpDéjeuner
Delivery • Pickup
Opens at 11:30 AM
Picked for you

Antipasti

Prosciutto di Parma 24 mesi

Mozzarella bufala di Salvadore Corso 125g

Pizzas

Pizzas fond de crème

Desserts

Boissons

Eau de source d'Italie "plate"

Eau de source d'Italie "gazeuse"

Nectar à la pulpe d'abricot BIO

Bières

Vins rouges

Montepulciano Rosso D.O.C BIO

Valpolicella Classico D.O.C

Vins rosés

Chiaretto Bardolino D.O.C

Vins blancs

Champagnes
Frequently asked questions
Can I order Amore Mio delivery in Paris with Uber Eats?
Yes. Amore Mio delivery is available on Uber Eats in Paris.
Is Amore Mio delivery available near me?
Amore Mio delivery might not be available everywhere in Paris, so enter your address to see if it's available near you.
How do I order Amore Mio delivery online in Paris?
There are 2 ways to place an order on Uber Eats: on the app or online using the Uber Eats website. After you've looked over the Amore Mio menu, simply choose the items you'd like to order and add them to your cart. Next, you'll be able to review, place, and track your order.
What's the best thing to order for Amore Mio delivery in Paris?
What's best at Amore Mio is totally up to you and your personal preference. If you're in need of some inspiration, consider trying one of the items featured in "Picked for you."
How do I get $0 Delivery Fee at Amore Mio in Paris?
The Delivery Fees may vary depending on a number of factors, like your location. Enter your Paris address to see the current Delivery Fee. You can also explore the Uber Eats membership and subscription options available in your area to see if you can save money on Amore Mio delivery with $0 Delivery Fee on select orders.