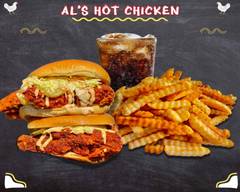 Location and hours
2102 Mildred Street West, Tacoma, WA 98466
Sunday
10:00 AM - 12:00 AM
Tacoma Menu
10:00 AM - 12:00 AM
Tacoma Menu
Monday
10:00 AM - 12:00 AM
Tacoma Menu
Tuesday - Saturday
10:00 AM - 12:00 AM
Tacoma Menu
10:00 AM - 12:00 AM
Tacoma Menu
Al's Hot Chicken Tacoma
2102 Mildred Street West, Tacoma, WA 98466
Delivery • Pickup
Opens at 10:00 AM
Combo #2 Two Nash Sandwiches & Fries

Combo #1 The Nash Sandwich, Fries, & Tender

Combo #3 Two Tenders & Fries

Combo #4 The Nash Sandwich & Fries

Combos

Combo #2 Two Nash Sandwiches & Fries

87% (258)

Combo #1 The Nash Sandwich, Fries, & Tender

88% (107)

Combo #4 The Nash Sandwich & Fries

87% (63)

Combo #3 Two Tenders & Fries

85% (87)

Chicken and Waffles

Combo #6 Two Waffles & Two Tenders

97% (35)

Combo #5 Two Waffles & 1 Tender

78% (19)

Al's Loaded Bowls

Sides/Extras

Drinks

Frozen Drink
5-Star Reviews
Hear from people who love this spot
best chicken sandwich I've ever had
---
Love this place especially their packaging.
---
---
---
when it says hot they mean hot! my family was NOT disappointed at all! going to be back for more real soon.
---
---
Best waffles I've ever had
---
amazing. I was so impressed. thank you
---
First time going here and was very impressed with the heat on that hot sandwich my lips were burning, also enjoyed a country as well. You gotta check this place out they got some flavors.
---
---
first time having, worth eating again
---
Food is top quality and made with real meats.
---
Thought sandwich was more than one tender but meal was delicious, spicy and great
---
---
Spicyest chicken in Tacoma. I tried the hottest sauce and it had me sweating but I couldn't stop eating it. Best chicken sandwich I've ever had and the Mac and cheese is addictive. I'm gonna go broke getting food here
---
The waffles and chicken strips are heaven!!
---
My whole family LOVES this place! The food is always good. No complaints, no crumbs!
---
---
My new favorite chicken spot! Their medium spice chicken is just perfect, and my wife loves the spicy mac and cheese. I have tried the hot, and it is legit hot but still with great flavor.
---
Awesome! Very tasty chicken sandwich. Easy menu. Lots of food.
---
---
---
---
So clean and amazing. The HOT is real hot lol I will probably try mild next time but I am very satisfied with quality, cleanness, packaging, everything. Thanks
---
---
---
best fried chicken in tacoma hands down