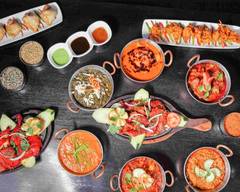 Location and hours
1400 West Taylor Street, Chicago, IL 60607
Sunday - Monday
11:00 AM - 2:30 PM
Menu
5:00 PM - 10:30 PM
Menu
11:00 AM - 8:00 PM
Alcoholic Beverages
Tuesday
11:00 AM - 2:30 PM
Menu
5:00 PM - 10:30 PM
Menu
Wednesday - Saturday
11:00 AM - 2:30 PM
Menu
5:00 PM - 10:30 PM
Menu
11:00 AM - 8:00 PM
Alcoholic Beverages
Adda Indian Cuisine
Closed • Available at 11:00 AM
What customers are saying

Reviews from people who've ordered here

PP

Great food. Great taste. 10/10. Highly recommend, if someone wants to try Indo-chinese...

MB

My fav place! Always great!

DR

Deepika reddy T.

4 months ago

Food is tasty

AR

Delicious and huge variety

K1

It was worth the money

SG

Foo

AC

Food tastes brilliant and authentic

SS

very tasty and tender meat.

LZ

the butter chicken is incredible!! i'm obsessed

AB

A solid go-to for my house. Their flavors are always really great, and their food is so...

SW

I loved everything I was eating

Appetizers

Crispy mix veg balls tossed in tangy garlic, spicy tomato, and soy sauce.

Pyramid-shaped pastry stuffing, potatoes, green peas, and spices.

Crispy cauliflower tossed in tangy garlic, spicy tomato, and soy sauce.

Crisp fried tender chicken with curry leaves, ginger, garlic, and homemade spices.

Crisp fried wings, cornflour, garlic, and ginger Schezwan sauce.

Crisp battered paneer, chili sauce, onions, and peppers.

Crisp chicken, celery, and ginger spicy chilly sauce.

Crispy onion fritters in chickpea flour batter.

Crisp baby corn tossed in Schezwan sauce.

Battered fried fish with carom seed and special homemade marination.

Sauteed prawns and curry leaves with the special masala.

Halaka Phulka and Mumbai Street Food

Mashed mixed vegetables, cooked in tomato, and onion sauce. Served with dinner rolls.

Minced lamb cooked in special house spices. Served with dinner rolls.

Soups

Vegetable Manchow Soup

Classic traditional lentil soup and house specialty.

Tomato puree and creamy and roasted garlic.

Salad

Beetroot, cucumber, tomatoes, onions, and yogurt lime dressing.

Slice chicken tikka and garden salad.

Breads

Dum Pukht Biryani

Basmati Pilaf

Veg Specialties (Paapi Pet)

Chicken

Seafood

Lamb and Goat

Grill (Party Ka Jugaad)

Sides

Mithai

Indo Chinese Feast

Sauces

Beverage
What customers are saying
Reviews from people who've ordered here
Great food. Great taste. 10/10. Highly recommend, if someone wants to try Indo-chinese cuisine.
---
My fav place! Always great!
---
---
Delicious and huge variety
---
---
---
Food tastes brilliant and authentic
---
very tasty and tender meat.
---
the butter chicken is incredible!! i'm obsessed
---
A solid go-to for my house. Their flavors are always really great, and their food is so reliable that I'm excited to try new things on the menu each time I go. Always recommend it to friends!
---
I loved everything I was eating