歐買尬豬霸王豬腳飯專賣店 Menu and Delivery in Taipei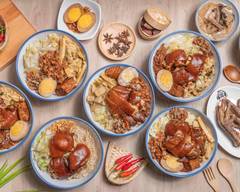 Location and hours
Jinzhou Street 411, Zhongshan District, Taipei City 104
Every Day
10:30 AM - 2:00 PM
全日菜單
4:00 PM - 8:30 PM
全日菜單
歐買尬豬霸王豬腳飯專賣店
4.8 (500+ ratings) • Taiwanese • $
  •  
More info
Jinzhou Street 411, Zhongshan District, Taipei City 104
Tap for hours, info, and more
Enter your address above to see fees, and delivery + pickup estimates.
Picked for you

人氣精選

飯 / 便當

單點滷豬腳

小菜

選用品質優良的國產豬大腸,細心清洗後放入滾水川燙,再以獨門老滷汁加上辛香料和中藥材小火慢慢燉煮,保有大腸特有的Q彈嚼勁,令人愛不釋手

使用南投麻竹筍片加入長時間熬煮的老母雞湯,小火燉煮使其甜味釋放並保留爽脆的口感,

湯品

飲料
[本店開立紙本發票] 本店使用豬肉原產地:台灣 (上開肉品資訊是由我們所合作之商家合作夥伴所提供。如對上開資訊有任何疑問,請直接與商家合作夥伴聯繫) (公司名稱:噢買尬小吃有限公司 / 統一編號:83050722)
Frequently asked questions
Can I order 歐買尬豬霸王豬腳飯專賣店 delivery in Taipei with Uber Eats?
Yes. 歐買尬豬霸王豬腳飯專賣店 delivery is available on Uber Eats in Taipei.
Is 歐買尬豬霸王豬腳飯專賣店 delivery available near me?
歐買尬豬霸王豬腳飯專賣店 delivery might not be available everywhere in Taipei, so enter your address to see if it's available near you.
How do I order 歐買尬豬霸王豬腳飯專賣店 delivery online in Taipei?
There are 2 ways to place an order on Uber Eats: on the app or online using the Uber Eats website. After you've looked over the 歐買尬豬霸王豬腳飯專賣店 menu, simply choose the items you'd like to order and add them to your cart. Next, you'll be able to review, place, and track your order.
What's the best thing to order for 歐買尬豬霸王豬腳飯專賣店 delivery in Taipei?
What's best at 歐買尬豬霸王豬腳飯專賣店 is totally up to you and your personal preference. If you're in need of some inspiration, consider trying one of the items featured in "Picked for you."
How do I get $0 Delivery Fee at 歐買尬豬霸王豬腳飯專賣店 in Taipei?
The Delivery Fees may vary depending on a number of factors, like your location. Enter your Taipei address to see the current Delivery Fee. You can also explore the Uber Eats membership and subscription options available in your area to see if you can save money on 歐買尬豬霸王豬腳飯專賣店 delivery with $0 Delivery Fee on select orders.