吉野家 行幸道路相武台 Menu and Delivery in Tokyo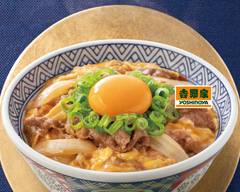 Location and hours
神奈川県座間市相武台1-24-1, Kanagawa, 252
Every Day
7:00 AM - 2:00 AM
吉野家 行幸道路相武台
4.5 (103 ratings) • Japanese • $
  •  
More info
神奈川県座間市相武台1-24-1, Kanagawa, 252
Tap for hours, info, and more
Enter your address above to see fees, and delivery + pickup estimates.
Picked for you

月見牛とじ

牛丼 Beef Bowl

牛ハヤシライス

牛サラダ

牛焼肉丼

ねぎ塩豚丼

ねぎ塩鶏丼

鰻重

スタミナ超特盛丼

牛カルビ丼 Beef Grilled Rib Bowl

豚丼 Pork Bowl

カレー

箸(スプーン)の提供

カレーはスプーン、カレー以外は割箸を提供いたしますが、不要であれば、数量1のままカートに追加してください。

サイドメニュー Side Menu

しじみ汁 Shijimi-Clam Miso Soup
Frequently asked questions
Can I order 吉野家 行幸道路相武台 delivery in Tokyo with Uber Eats?
Yes. 吉野家 行幸道路相武台 delivery is available on Uber Eats in Tokyo.
Is 吉野家 行幸道路相武台 delivery available near me?
吉野家 行幸道路相武台 delivery might not be available everywhere in Tokyo, so enter your address to see if it's available near you.
How do I order 吉野家 行幸道路相武台 delivery online in Tokyo?
There are 2 ways to place an order on Uber Eats: on the app or online using the Uber Eats website. After you've looked over the 吉野家 行幸道路相武台 menu, simply choose the items you'd like to order and add them to your cart. Next, you'll be able to review, place, and track your order.
What's the best thing to order for 吉野家 行幸道路相武台 delivery in Tokyo?
What's best at 吉野家 行幸道路相武台 is totally up to you and your personal preference. If you're in need of some inspiration, consider trying one of the items featured in "Picked for you."
How do I get $0 Delivery Fee at 吉野家 行幸道路相武台 in Tokyo?
The Delivery Fees may vary depending on a number of factors, like your location. Enter your Tokyo address to see the current Delivery Fee. You can also explore the Uber Eats membership and subscription options available in your area to see if you can save money on 吉野家 行幸道路相武台 delivery with $0 Delivery Fee on select orders.