やよい軒 本城店 Menu and Delivery in Kitakyushu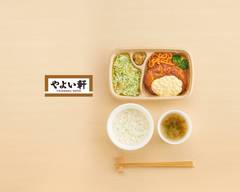 Location and hours
福岡県北九州市八幡西区千代ヶ崎1-15-14, Fukuoka, 807
Every Day
5:00 AM - 2:00 AM
やよい軒 本城店
4.5 (48 ratings) • Japanese • $
  •  
More info
福岡県北九州市八幡西区千代ヶ崎1-15-14, Fukuoka, 807
Tap for hours, info, and more
Enter your address above to see fees, and delivery + pickup estimates.
$ •
Japanese
 • 
Japanese set items
 • 
Fried Foods
Picked for you

おすすめ・期間限定商品

おうち定食 <ごはん超特盛まで無料>

丼シリーズ<ご飯大盛り無料>

おかず単品

ハンバーグとエビフライとから揚げの人気トリオ【おかず単品】
Frequently asked questions
Can I order やよい軒 本城店 delivery in Kitakyushu with Uber Eats?
Yes. やよい軒 本城店 delivery is available on Uber Eats in Kitakyushu.
Is やよい軒 本城店 delivery available near me?
やよい軒 本城店 delivery might not be available everywhere in Kitakyushu, so enter your address to see if it's available near you.
How do I order やよい軒 本城店 delivery online in Kitakyushu?
There are 2 ways to place an order on Uber Eats: on the app or online using the Uber Eats website. After you've looked over the やよい軒 本城店 menu, simply choose the items you'd like to order and add them to your cart. Next, you'll be able to review, place, and track your order.
What's the best thing to order for やよい軒 本城店 delivery in Kitakyushu?
What's best at やよい軒 本城店 is totally up to you and your personal preference. If you're in need of some inspiration, consider trying one of the items featured in "Picked for you."
How do I get $0 Delivery Fee at やよい軒 本城店 in Kitakyushu?
The Delivery Fees may vary depending on a number of factors, like your location. Enter your Kitakyushu address to see the current Delivery Fee. You can also explore the Uber Eats membership and subscription options available in your area to see if you can save money on やよい軒 本城店 delivery with $0 Delivery Fee on select orders.