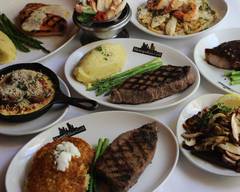 Metropolitan Grill (820 2nd Ave.)
$ • Steak • American • Fast Food
4.4
(46)
  •  
View delivery time and booking fee.
Location and hours
820 2nd Ave., Seattle, WA 98104
Every Day
05:00 PM - 09:00 PM
820 2nd Ave., Seattle, WA 98104 • More info
---
Appetizers

Dungeness and King Crab Cakes

Granny Smith apple slaw, European–style citrus butter sauce.

Metropolitan Prawn Cocktail

Cocktail sauce, brunoise vegetables, and lemon.

Prime Teriyaki Tenderloin Bites

Scallions and orange supremes.

Starter Salads

Classic Caesar

Romaine hearts, garlic croutons, Parmigiano–Reggiano, Spanish white anchovies, and house-made Caesar dressing.

House Field Greens

Anjou pears, gorgonzola, candied walnuts, and dijon mustard vinaigrette.

Organic Baby Spinach

Toasted almonds, bacon, Jack cheese, and honey–mustard vinaigrette.

Iceberg Wedge

Gala apples, diced tomatoes, toasted hazelnuts, and kurobuta bacon.

Prime Double Ranch Beef

New York Strip Loin (12oz)

New York Strip Loin (16oz)

Prime Delmonico (20oz)

Bone–in New York strip loin. 20 oz.

The Met "LongBone" Ribeye (40oz)

Specialty Steaks

SnakeRiver Farms Filet Mignon (10oz)

SnakeRiver Farms Strip Loin (16oz)

SnakeRiver Farms Center Cut Porterhouse (32oz)

Dinner for Two

The Met "LongBone" Ribeye (40oz)

Dinner Specialties

Dungeness Crab and Prawn Fettuccine

Fire–roasted tiger prawns scampi, Dungeness crab fry legs, red onions, wild mushrooms, Parmigiano– Reggiano, Alfredo and herbed bread crumbs

Pan Seared Steakhouse Chicken

Roasted garlic, wild mushroom jus and mashed potatoes.

Metropolitan Grill Steak Salad

American Wagyu butcher cut, mixed greens, pear tomatoes, Parmesan–peppercorn dressing, Point Reyes blue cheese, cherry radishes and red onion.

Bacon Wrapped Pork Chops

Morel cream sauce. Mashed Potatoes

For The Table

Asparagus with Béarnaise Sauce

Dessert

Five Layer Carrot Cake

Layers of rich carrot cake, buttercream finished with orange crème anglaise.

White Chocolate Coconut Cake

Three layers of rich, dense yellow cake, toasted coconut, and white chocolate chips. Frosted with a rich white chocolate icing and served with berry coulis.

Nine Layer Chocolate Cake

Layers of rich and moist devil's food chocolate cake filled with chocolate buttercream. With a special dark chocolate sauce.