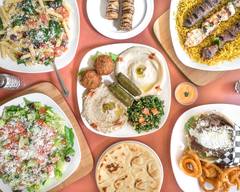 Blue Dish Café
View delivery time and booking fee.
Location and hours
2956 Teagarden St, San Leandro, CA 94577
Sunday - Thursday
Closed
Friday
10:30 AM - 02:00 PM
Saturday
Closed
This spot is one of the 3 most popular spots for Mediterranean delivery in all of San Leandro. Wish you could ask someone what's recommended here? The cobb salad is one of the most ordered items of the 50 things on the menu and the shawarma wrap and the tostada salad are two of the items most commonly ordered together at this midday go-to...
Show more
This spot is one of the 3 most popular spots for Mediterranean delivery in all of San Leandro. Wish you could ask someone what's recommended here? The cobb salad is one of the most ordered items of the 50 things on the menu and the shawarma wrap and the tostada salad are two of the items most commonly ordered together at this midday go-to. • ¢ •
Mediterranean
 • 
Vegetarian
 • 
New American
 • 
Latin American
 • 
Healthy
2956 Teagarden St, San Leandro, CA 94577 • More
---
Picked for you

Crisp romaine, mixed greens, shredded carrots, chopped roma tomatoes, sliced english cucumbers, roasted turkey breast, honey ham, cheddar, and swiss cheese with our house vinaigrette on the side. Hearty portions featuring our own blue dish house vinaigrettes and served with french baguette and butter.

Gluten Free

Served with rice pilaf, garlic hummus, tomato- cucumber salsa, yogurt sauce, baba ganouj, and pita bread.

Halal

Slowly grilled tender and juicy chicken skewers (2) marinated in our house-blend of herbs and spices served with rice pilaf, garlic hummus, tomato-cucumber salsa, yogurt sauce, baba ganouj, and pita bread.

Halal

Vegetarian Combo Platter

Rice pilaf, falafel, garlic hummus, tomato-cucumber salsa, baba ganouj, yogurt sauce, feta cheese, and pita bread.

Caesar Salad

Crisp romaine, house made garlic-herb croutons, shredded parmesan, and creamy caesar dressing on the side. Hearty portions featuring our own blue dish house vinaigrettes and served with french baguette and butter.

The Mediterranean

Slow roasted lamb or chicken marinated in our house-blend of herbs and spices, thinly sliced and wrapped in flatbread with caramelized onions, garlic hummus, and tomato-cucumber salsa.

Halal

Ground lamb and beef mixed with our house-blend of herbs and spices, seared to perfection then wrapped in flatbread with caramelized onions, garlic hummus, and tomato-cucumber salsa.

Halal

Spicy aromatic garbanzo bean fritters, wrapped in flatbread with caramelized onions, garlic hummus, and tomato-cucumber salsa.

Halal

Halal

Slowly grilled tender and juicy chicken skewers (2) marinated in our house-blend of herbs and spices served with rice pilaf, garlic hummus, tomato-cucumber salsa, yogurt sauce, baba ganouj, and pita bread.

Halal

Served with rice pilaf, garlic hummus, tomato- cucumber salsa, yogurt sauce, baba ganouj, and pita bread.

Halal

Vegetarian Combo Platter

Rice pilaf, falafel, garlic hummus, tomato-cucumber salsa, baba ganouj, yogurt sauce, feta cheese, and pita bread.

Ground lamb mixed with our house-blend of herbs and spices, seared to perfection and topped with caramelized onions, provolone cheese, lettuce, tomato, mustard, mayo, and ketchup.

Halal

Sides

Rice Pilaf

vegan and gluten free

Garlic Hummus

vegan and gluten free

Baba Ganouj

vegan and gluten free

Tomato Cucumber Salsa

vegan and gluten free

Yogurt Sauce

vegetarian and gluten free

Crumbled Feta

vegetarian and gluten free

French Fries (Vegan, GF)

vegan and gluten free

Sweet Potato Fries (Vegan, GF)

vegan and gluten free

Seasoned Mexican Rice (Vegan, GF)

vegan and gluten free

Pinto Beans (Vegan, GF)

vegan and gluten free

Guacamole, Pico De Gallo, and Chips

Fresh Cut Salads

The Blue Dish Salad

Crisp romaine, mixed greens, shredded carrots, chopped roma tomatoes, sliced English cucumbers, garbanzo beans, and crumbled feta cheese with our house vinaigrette on the side. Hearty portions featuring our own blue dish house vinaigrettes and served with French baguette and butter.

vegan and gluten free

Mediterranean Salad

Crisp romaine, mixed greens, grilled eggplant, shredded carrots, chopped roma tomatoes, sliced English cucumbers, garbanzo beans, kalamata olives, and crumbled feta cheese with our sundried tomato house vinaigrette on the side. Hearty portions featuring our own blue dish house vinaigrettes and served with french baguette and butter.

vegan and gluten free

Crisp romaine, mixed greens, sliced marinated grilled chicken, chopped applewood smoked bacon, hardboiled eggs, gorgonzola cheese, avocado, and chopped roma tomatoes with our house vinaigrette on the side. Hearty portions featuring our own blue dish house vinaigrettes and served with french baguette and butter.

Gluten Free

Caesar Salad

Crisp romaine, house made garlic-herb croutons, shredded parmesan, and creamy caesar dressing on the side. Hearty portions featuring our own blue dish house vinaigrettes and served with french baguette and butter.

Crisp romaine, house made garlic-herb croutons, shredded parmesan, and creamy caesar dressing on the side. Hearty portions featuring our own blue dish house vinaigrettes and served with french baguette and butter.

Gluten Free

Crisp romaine, mixed greens, shredded carrots, chopped roma tomatoes, sliced english cucumbers, roasted turkey breast, honey ham, cheddar, and swiss cheese with our house vinaigrette on the side. Hearty portions featuring our own blue dish house vinaigrettes and served with french baguette and butter.

Gluten Free

Grass Fed Burgers and More

The Blue Dish Cheeseburger

1/3 pound seasoned grass fed patty seared to perfection with choice of cheese, shredded Iceberg, sliced roma tomato, thinly sliced onions, mayo, ketchup, mustard, on a toasted brioche bun.

Halal

1/3 pound seasoned grass fed patty seared to perfection with American cheese, shredded Iceberg, sliced roma tomato, thinly sliced onions, and thousand island dressing on a toasted brioche bun.

Halal

1/3 pound ground lamb mixed with our house-blend of herbs and spices, seared to perfection and topped with caramelized onions, melted provolone cheese, lettuce, tomato, mustard, mayo, and ketchup.

Halal

1/3 pound seasoned white meat turkey patty seared to perfection with choice of cheese, shredded iceberg, sliced tomato, thinly sliced onions, mayo, ketchup, mustard, on a toasted brioche bun.

Halal

Make It A Double

Double meat and double cheese.

Burritos & More

Vegetarian Burrito

Seasoned rice, pinto beans, shredded cheddar-jack cheese, and pico de gallo wrapped in a flour tortilla then toasted on the griddle. Served with tortilla chips and house made serrano-tomatillo. Vegan rice and beans made with olive oil, and not lard.

Seasoned rice, pinto beans, shredded cheddar-jack cheese, and pico de gallo wrapped in a flour tortilla then toasted on the griddle. Served with tortilla chips and house made serrano-tomatillo salsa. Vegan rice and beans made with olive oil and not lard.

Halal

Folded with shredded cheddar-jack cheese and caramelized onions in a flour tortilla. Served with pico de gallo, sour cream, and shredded iceberg lettuce on the side. Served with tortilla chips and house made serrano-tomatillo salsa. Vegan rice and beans made with olive oil and not lard.

Halal

Quesadilla (Vegetarian)

Folded with shredded cheddar-jack cheese and caramelized onions in a flour tortilla. Served with pico de gallo, sour cream, and shredded iceberg lettuce on the side. Served with tortilla chips and house made serrano-tomatillo salsa. Vegan rice and beans made with olive oil and not lard.

A made to order large crispy flour tortilla topped with a bed of shredded iceberg lettuce, pinto Beans, pic de gallo, guacamole, sour cream, and choice of marinated grilled angus steak, chicken, Shrimp, or shrimp and steak. Served with tortilla chips and house made serrano-tomatillo salsa. Vegan rice and beans made with olive oil and not lard.

Halal

Tostada Salad (Vegetarian)

A made to order large crispy flour tortilla topped with a bed of shredded iceberg lettuce, pinto Beans, pic de gallo, guacamole, sour cream, and choice of marinated grilled angus steak, chicken, Shrimp, or shrimp and steak. Served with tortilla chips and house made serrano-tomatillo salsa. Vegan rice and beans made with olive oil and not lard.

Carefully Crafted Sandwiches

Sliced marinated grilled chicken breast with fresh pesto, sundried tomato vinaigrette, French brie, arugala, and sliced roma tomato on toasted olive oil focaccia. Hand cut and crafted.

Halal

Thinly sliced honey roasted ham, arugula, sliced roma tomato, French brie, and Dijon-mayo on toasted organic whole grain bread or toasted sliced sourdough. Hand cut and crafted.

Chopped marinated grilled chicken breast tossed in a curry aioli with avocado, shredded iceberg lettuce and sliced roma tomatoes on toasted organic whole grain bread or toasted sliced sourdough. Hand cut and crafted.

Halal

Applewood smoked bacon, shredded iceberg lettuce, sliced roma tomato, and mayo on toasted organic whole grain bread or toasted sliced sourdough.. Hand cut and crafted.

Applewood smoked bacon, shredded iceberg lettuce, sliced roma tomato, and mayo on toasted organic whole grain bread or toasted sliced sourdough.. Hand cut and crafted.

Grilled Eggplant Pesto

Grilled eggplant, fresh pesto, sundried tomato vinaigrette, provolone cheese, arugala, and sliced roma tomato on toasted olive oil focaccia. Hand cut and crafted.

Classic Turkey Club

House roasted turkey breast, honey ham, and applewood smoke bacon piled high with shredded iceberg, sliced roma tomatoes, swiss cheese, and mayo between 3 slices of toasted organic whole grain bread or toasted sliced sourdough. Hand cut and crafted.

The Blue Dish Turkey Sandwich

House roasted all natural nitrate-free turkey breast, choice of cheese, shredded icerberg lettuce, sliced roma tomatoes, thinly sliced sweet onion, sliced pickled pepperocini, and our blue dish house vinaigrette on toasted organic whole grain bread or toasted sliced sourdough. Hand cut and crafted.

Halal

Albacore tuna tossed in a sweet and flavorful dill dressing with avocado, thinly sliced sweet onions, shredded iceberg lettuce and sliced roma tomatoes on toasted organic whole grain bread or toasted sliced sourdough. Hand cut and crafted.

Halal