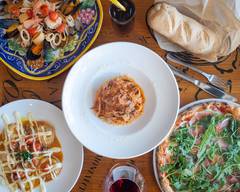 Siamo Napoli
Italian • Pasta • Healthy
4.7
(96)
  •  
View delivery time and booking fee.
Location and hours
3959 30th St, San Diego, CA 92104
Every Day
04:00 PM - 09:00 PM
3959 30th St, San Diego, CA 92104 • More info
---
Mains

Prosciutto E Mozzarella Bar

Antipasti

Croque Arancini

Yukon potato croquette and Neapolitan risotto ball.

Calamari Fritti

Lightly fried calamari and Castelvetrano olives.

Burratina

Organic heirloom tomato and imported burrata.

Vongole

Manila clams, cold pressed extra virgin oilve oil oil, smoked garlic, and crostini.

Fiore di Zucca

Squash blossom, ricotta, provola, salame, and IPA tempura.

Cozze

Steamed Carlsbad mussels, black pepper, and local farm lemon.

Insalata di Mare

Octopus, calamari, shrimp, fennel, and frisee.

Insalata

Casa Insalata

Garden greens, strawberries, and house dressing.

Panzanella Insalata

Cucumber, tomato, tuna conserva, olives, croutons, provolone, and vinaigrette.

Arucola Insalata

Orange, fennel, goat cheese, dates, and citrus dressing.

Crescione Insalata

Yellow beets, watercress, avocado, gorgonzola, walnuts, and balsamic.

Contorni

Peperoncini Verdi

Sauteed shishito peppers and cherry tomatoes.

Funghi e Pancetta

Mushroom and pancetta tesa.

Carciofi Saltati

Artichoke with extra virgin oilve oil, garlic, and parsley.

Polpette

Two traditional Sunday meatballs in marinara sauce.

Pasta

Ravioli con Melanzana

Handmade ravioli filled with eggplant parmigiana, cherry tomato, and parmigiano fondue.

Cannelloni

Beef ragu, ricotta, mozzarella, and parmigiano.

Calamarata

Artisan rings pasta, calamari, clams, mussels, and shrimp in light tomato.

Parpardelle con il Ragu d'Agnello

Cabernet infused pasta with slow braised lamb ragout.

Gnocchi alla Sorrentina

Potato dumpling, tomato sauce, and smoked provola.

Scialatelli

Handmade thick cut pasta, yellow cherry tomato, manila clams, and tiger shrimp.

Risotto con Zucca e Salsiccia

Carnaroli rice, roasted butternut squash, fennel sausege, and Gorgonzola.

Capunti

Artisan pasta shell, house made fennel sausage, rapini, and chili pepper.

Secondi Piatti

Pollo Capri

Breaded double breasted chicken, eggplant, pomodoro sauce, mozzarella, and side of penne pasta.

Cioppino di Positano

Branzino, scallop, shrimp, mussels, clams, and calamari in guazzetto with black garlic crostini.

Pollo alla Boscaiola

Double breasted chicken, mushroom, cherry tomato, and chardonnay.

Bistecca

Ten ounces rib eye steak, mushroom sauce, roasted potato, and broccoli rabe.

Spigola dello Chef

Branzino, Sicilian olives, lemon meyer preserve, fingerling potato, and artichoke.

Carne alla Genovese

Braised bone in short rib with red onions and cabernet reduction. Served with ziti pasta.

Pizze Napoletane

Margherita Pizze

Pomodoro sauce, mozzarella, basil, and extra virgin oilve oil.

Piccante Pizze

Pomodoro sauce, mozzarella, sopressata, and Calabrian peppers.

Salciccia e Friarielli Pizze

Mozzarella, house made fennel sausage, and rapini.

Burrata e Carciofi Pizze

Burrata, mozzarella, artichokes, cherry tomato, and basil.

Vegetariana Pizze

Pomodoro sauce, mozzarella, grilled zucchini, artichoke, and roasted pepper.

Vegetarian

Gamberi e Asparagi Pizze

Mozzarella, shrimp, asparagus, and gorgonzola.

Contadina Pizze

Pomodoro sauce and mozzarella house fennel sausage with mixed mushrooms.

Sofia Pizze

Cherry tomato, pancetta, provola affumicata, arugula, and parmigiano.

Vegana Pizze

Pomodoro sauce, vegan mozzarella, basil, and extra virgin oilve oil.

Vegan

Calzone Napoletano Pizze

Ricotta, mozzarella, salame, and parmigiano.