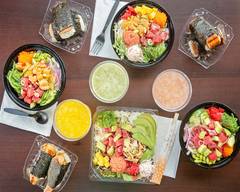 Ahipoki Bowl (Stockton)
View delivery time and booking fee.
Location and hours
4932 Pacific Ave Ste B, Stockton, CA 95207
Every Day
11:00 AM - 08:00 PM
This place is popular among Stockton locals, so consider ordering from here if you like to do as the locals do. Wondering what's the best thing to order here? The ahirrito is one of the most ordered items among the 21 things on the menu and the regular bowl and the spam musubi are two of the items most commonly ordered together at this af...
Show more
This place is popular among Stockton locals, so consider ordering from here if you like to do as the locals do. Wondering what's the best thing to order here? The ahirrito is one of the most ordered items among the 21 things on the menu and the regular bowl and the spam musubi are two of the items most commonly ordered together at this afternoon go-to. • ¢ •
Hawaiian
 • 
Rice-bowls
 • 
Family Meals
 • 
Seafood
 • 
Sushi
4932 Pacific Ave Ste B, Stockton, CA 95207 • More info
---
Picked for you

Choose your base, selection (three scoops), sauce, and toppings

Choose your base, selection (Two Scoops), sauce, and toppings

Uber Eats Combos

Large Bowl and Tropical Passion Drink Combo

Choose your base, selection (three scoops), sauce, and toppings.

Regular Bowl and Thai Tea (Can) Drink Combo

Choose your base, selection (Two Scoops), sauce, and toppings

Bowls

Choose your base, selection (Two Scoops), sauce, and toppings

Choose your base, selection (three scoops), sauce, and toppings

Featured Items

Handcrafted Drinks

Drinks

Unsweetened Green Tea Bottle Drink