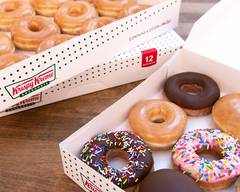 Krispy Kreme (Richmond) 7130 Tim Price Way
4.3
(31)
  •  
View delivery time and booking fee.
Location and hours
7130 Tim Price Way, Richmond, VA 23225
Every Day
06:15 AM - 10:45 PM
Wondering what's recommended here at this evening go-to? Users love the Pumpkin Lovers Dozen, which is one of the most popular items on the menu, as well as the Classic Assorted Dozen and the Original Glazed® Dozen, which are two of the items most commonly ordered together. • ¢ •
Breakfast and Brunch
 • 
Coffee and Tea
 • 
Desserts
7130 Tim Price Way, Richmond, VA 23225 • More info
---
Delivery Doughnut Menu

A dozen of our iconic Original Glazed®doughnuts

An assortment of our classic doughnuts, selected just for you.

OREO® Lover's Dozen: Experience OREO like never before with this dozen, containing 4 OREO® Cookie Glazed Doughnuts, 4 OREO® Cookie Over-the-Top Doughnuts and 4 Original Glazed® Doughnuts.

Delivery Partners' Drinks Menu

96 ounces of fresh brewed coffee. Your Brew Box will arrive with 10 cups, lids, sleeves and stir sticks. 20 creamers and sugars and 10 Splenda® sweeteners.