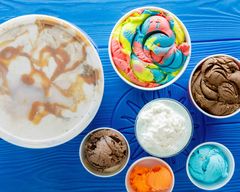 Scooptacular
$ • Ice Cream and Frozen Yogurt
5
(19)
  •  
View delivery time and booking fee.
Location and hours
5150 W Baseline Rd #102, Laveen Village, AZ 85339
Every Day
12:00 PM - 08:30 PM
5150 W Baseline Rd #102, Laveen Village, AZ 85339 • More info
---
Ice Cream

Vanilla

Award winning Madagascar Bourbon Vanilla Bean

Birthday Cake

Cake Batter Ice with Rainbow Sprinkles and Frosting

Cookie Monster

Cotton Candy based ice cream infused with Cookie Dough and Oreos

Chocolate Chip Cookie Dough

Strawberry Cheesecake

Strawberry cheesecake ice cream

Chocolate Covered Strawberry

Blueberry lemon

Blueberry and lemon ice cream swirled together

Freckles

Vanilla ice cream with card chocolate shavings

Berry Sorbet

Dairy free sorbet - cherry and strawberry swirled together

Abuelitas

Mexican Hot Chocolate - Dark Chocolate with Cinnamon and Sugar Crystals

Bubblegum

Traditional Pink Bubblegum

Cereal Milk

Lucky Charms milk with Magically Delicious Marshmallows

Cookies n Cream

Award winning Vanilla with Oreos

German Chocolate Cake

Coconut based with Pecans and Caramel Ribbons

Mint Chip

Spearmint based with melted Anded mints and Chocolate Chips

Pop Off

Pop rock infused ice cream

Pumpkin Pie

Pumpkin base infused with Graham Crumbs

Red Velvet

Chocolate Cake based with swirls of our Frosting

Grasshopper

Peppermint based with Girl Scout Thin Mint and Oreos

REESE PEANUT BUTTER CUP

Peanut Butter based with Reese bites, Fudge and Peanuts

HAUPIA

VEGAN Coconut Milk based treat.

COFFEE

Coffee based with Chocolate Crunch, Caramel Swirls and Almonds

LEMON LIME SORBET

Dairy free lemon and lime swirled together

Cherry Lime Sorbet

Dairy free Cherry and Lime Sorbet swirled together.