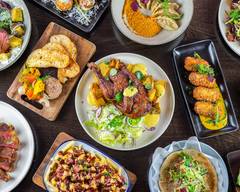 Keystone
$
4.2
(26)
  •  
View delivery time and booking fee.
Location and hours
150 Victoria Street, Hamilton 3204, New Zealand,
Sunday
Monday - Friday
05:00 pm - 08:30 pm
Saturday
150 Victoria Street, Hamilton 3204, New Zealand,  • More info
---
Smalls For Sharing

Garlic Bread

Mozzarella, butter, and confit garlic.

Fries

Shoestring fries, parmesan, and hollandaise.

Gluten Free

Buffalo Fried Chicken

Fried chicken coated in mild buffalo sauce with ranch dip.

Hawker Rolls

Dairy free. Sticky hoisin duck breast flaky roti and refreshing salad.

Pork Dumplings

Dairy free. Authentic dumplings and peanut sauce.

Mozzarella Arancini

Four arancini balls, buffalo mozzarella, and mascarpone.

Brisket Loaded Fries

Pulled brisket, smoky BBQ sauce, and cheese sauce.

Gluten Free

Pate

House pickles and grilled ciabatta.

Croquettes

Smoked kahawai croquettes and old yella mustard.

Charred Vege

Seasonal vegetable, prosciutto, and pecorino.

Gluten Free

Burgers

Beef Burger

New Zealand beef pattie, Swiss cheese, lettuce, McClures pickles, tomato relish, and mustard.

Chicken Burger

Crispy fried chicken breast, streaky bacon, cheese, lettuce, hickory BBQ sauce, and mayonnaise.

Brisket Burger

Slow smoked brisket, cheddar cheese, lettuce, bacon aioli, caramelised onion, and blue cheese ranch.

Venison Burger

Venison pattie, smoky bacon, Swiss cheese, red onion, spicy sauerkraut, sour cream, and BBQ sauce.

Larger

Fish and Chips

Dairy free. Battered market fish, shoestrings, fennel and celeriac slaw, and tartare.

Sirloin

Served Medium, buttered green beans, shoestring fries, and green pepper sauce.

Gluten Free

Roast Chicken

Half roasted chicken, burnt butter, roast potatoes, and hollandaise.

Gluten Free

Lamb

Slow roasted lamb rump, pomegranate tzatziki, crisp potatoes, and green beans.

Gluten Free

Pasta

Dairy free. Pappardelle, courgette, marinated cherry toms, eggplant, and vegan cheddar.

Vegan

Pork Hock

Dairy free. Cucumber and spring onion salad and steamed.