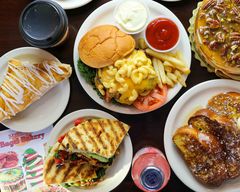 Mannino's Bagel Bakery - Freeport
4.5
(113)
  •  
View delivery time and booking fee.
Location and hours
197 Atlantic Ave, Freeport, NY 11520
Every Day
05:00 AM - 03:30 PM
Menu
05:00 AM - 03:30 PM
Breakfast
If you love cheeseburger deluxe takeout like most users in Freeport, you'll be pleased to know it's offered at Mannino's Bagel Bakery. Wish you could ask Mannino's Bagel Bakery customers what's popular here? If you could, you might expect the answer to be the cheese and meat omelette, since it's one of the most-ordered items on the entire...
Show more
If you love cheeseburger deluxe takeout like most users in Freeport, you'll be pleased to know it's offered at Mannino's Bagel Bakery. Wish you could ask Mannino's Bagel Bakery customers what's popular here? If you could, you might expect the answer to be the cheese and meat omelette, since it's one of the most-ordered items on the entire menu at this morning go-to. • ¢ •
Bakery
 • 
Sandwich
 • 
Breakfast & Brunch
 • 
Allergy Friendly
 • 
Local Eats
197 Atlantic Ave, Freeport, NY 11520 • More info
---
Bagels

Bagel with Cream Cheese and Bacon

Bagel with nova lox, plain cream cheese, tomato, and red onions.

Box of Joe with Six Bagels

Omelettes

Mushrooms and Onions Omelette

Egg White Western Omelette

Bakery

Large Rainbow Sprinkle Cookie

Large Chocolate Chip Cookie

Fresh Salads

lettuce tomatoes, cucumbers,green peppers,shredded carrots, red onions with choice of dressings

lettuce, tomatoes, green peppers,cucumbers, red onions, topped with feta and black olives

Mannino's Vegetarian Salad

lettuce, spinach, avocados,grilled veg, mozzarella cheese

lettuce, spinach, avocados, grilled chicken, grilled veg, mozzarella.

lettuce, grilled chicken,chopped bacon,sliced hard boiled egg, red onions,avocados and swiss cheese

lettuce, tomato,green peppers, carrots, sliced hard boiled eggs, rolled ham, turkey, roast beef and swiss cheese.

Salads

Specialty Sandwiches

Grilled chicken, avocado, spinach, mozzarella, and roasted red peppers warmed on the grill on texas toast.

bacon lettuce and tomato on roll or bagel

Bacon, lettuce, and tomato with American cheese on roll or bagel

Boars head turkey, bacon, lettuce, and tomato.

Corned beef, sauerkraut, melted Swiss, and Russian dressing.

Chicken Cutlet Classic Roll

Grille chicken, bacon, guacamole, and Cheddar with crumbled tortilla chips on Texas toast.

Roast beef with choice of cheese on a garlic toasted hero.

Chicken Cutlet Supreme Hero

Chicken cutlet, bacon, and choice of cheese on hero

Prosciutto, pepperoni, salami, choice of cheese with bacon, and choice of dressing.

Tuna salad with melted American cheese.

Boars head turkey, ham, salami, choice of cheese with bacon, and choice of dressing.

sliced steak with sauteed onions,peppers and choice of cheese on hero

From The Grill

6 piece wings with fries.

gyro meat , lettuce, tomatoes, red onions and tzatziki sauce on pita bread

CHOPPED BURGER WITH MELTED CHEESE , LETTUCE, TOMATOES, MAYO, KETCHUP ON A ROLL.

Wraps

Chicken Cutlet Supreme Wrap

Chicken cutlet, bacon, choice of cheese, lettuce, and tomato.

Grilled chicken, avocado, spinach, mozzarella, and roasted red peppers warmed on the grill on texas toast.

Boars head turkey, bacon with lettuce, and tomato.

Grilled chicken, mozzarella, roasted red peppers, lettuce, and tomato.

Roast beef, bacon, mozzarella, and BBQ sauce.

Burgers and Loaded Fries

Bacon Cheese Burger Deluxe

Burger with Fried Egg Deluxe

Mushroom Swiss Burger Deluxe

Texas Toast Grilled Cheese Burger Deluxe

French fires loaded with chopped beef and cheese.

Loaded Mac & Cheese fries

French fries with mac & cheese and chopped bacon

French fries loaded with cheese sauce , 3 pc chicken fingers , bacon and sour cream on side.

Sandwiches

Veggie Tuna Fish Sandwich

Bagel with nova lox, plain cream cheese, tomato, and red onions.

Gourmet Paninis

Grilled chicken, prosciutto, roasted red peppers, and mozzarella.

Grilled chicken, melted mozzarella, and roasted red peppers.

Pastrami, Swiss, and mozzarella with mustard.

Breaded chicken cutlet, bacon, Cheddar, mozzarella, and Russian dressing.

Grilled chicken, mozzarella, spinach, roasted red peppers, and avocados.

Acai Bowls

Acai, strawberry, banana, granola, shaved coconut, and honey.

Acai, strawberry, pineapple, mango, granola, shaved coconut, and honey.

Acai, strawberry, blueberry, blackberry, granola, and honey.

Acai Strawberry Kiwi Blast

Acai, strawberry, kiwi, banana, granola, and shaved coconut.

Acai Nutty Chocolate Blast

Acai, banana, peanut butter, cacao, granola, almonds, and nutella.

Gourmet Grilled cheeses

chicken strips, BBQ, cheddar and bacon on texas toast with fries

Boards head buffalo chicken, hot sauce and pepper jack cheese on texas toast with fries

2 FRIED EGGS, hash brown, bacon, and american cheese on texas toast.

Mac and cheese grilled cheese

mac cheese crispy bacon and american cheese on texas toast with fries

Amazin Parm grilled cheese

chicken cutlet tomato sauce and melted mozzarella on texas toast with fries

Quesadillas

chopped burger, bacon, red onions and cheddar

pulled pork, BBQ sauce and cheddar

Cold Cuts

Other Items

Cream Cheese

Extras

Beverages

Bottled Beverages

Nesquik Banana Strawberry

Gatorade Fruit Punch 28 oz

Gatorade Lemon Lime 28 oz

Snapple Diet Half and Half

Tropicana 12 oz Some Pulp

Tropicana 12 oz Raspberry Lemonade

Tropicana 12 oz Cranberry

Tropicana 15.2 oz Cranberry

Tropicana 15.2 oz Ruby Red

Tropicana 15.2 oz Grapefruit

Red Bull 12 oz Sugar Free

Iced Beverages

Hot Beverages

French Vanilla Cappuccino