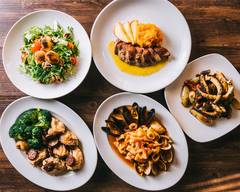 Lusardi's Restaurant
4.8
(28)
  •  
View delivery time and booking fee.
Location and hours
1885 Palmer Ave, Larchmont, NY 10538
Sunday - Thursday
12:00 PM - 03:30 PM
Lunch
03:30 PM - 08:30 PM
Dinner
Friday - Saturday
12:00 PM - 03:30 PM
Lunch
03:30 PM - 09:30 PM
Dinner
---
Antipasti Lunch

Sliced eggplant layered with ricotta cheese, spinach, marinara sauce, and melted fontina cheese.

Crispy artichokes and mild spicy marinara sauce.

Mussels in a spicy marinara broth.

Little neck clams with seasoned bread crumbs.

Grilled octopus, Kalamata olives, fingerling potatoes, and oven roasted tomatoes.

Gluten Free

Burrata Tartufata con Prosciutto

Burrata mozzarella infused with black truffle, prosciutto di Parma

Gluten Free

Chicken livers sauteed with balsamic vinegar, caramelized onions, mushrooms, and parmigiano basket.

Insalate Lunch

Arugula, endive, radicchio, and house dressing.

Gluten Free

Mixed greens with baked goat cheese, walnuts, tomatoes, olive oil, and red wine vinegar.

Artichokes, arugula, endive, and lemon dressing.

Gluten Free

Caesar salad with little gem Romaine, croutons, and Caesar dressing.

Pasta Lunch

Gnocchi ai Quattro Formaggi

Homemade potato dumplings, four cheeses sauce.

Spaghetti with meatballs and marinara sauce.

Roll of pasta filled with spinach, porcini mushroom, ricotta, and pink sauce.

Pappardelle with meat ragu.

Linguine, New Zealand cockles, and white clam sauce.

Tagliolini Neri allo Scoglio

Squid ink tagliolini with mixed seafood in a mild spicy marinara sauce.

Scialatielle Cacio e Pepe

Scialatielle with caciotta cheese and fresh pepper.

Penne, Vodka sauce (tomato and cream)

Risotto, dried porcini mushrooms.

Homemade spinach strozzapreti, duck ragu.

Homemade halfmoon shaped ravioli filled with prosciutto di Parma, cream sauce, mushrooms, sweet peas

Secondi Lunch

Chicken on the bone, sausage, broccoli, and white wine-lemon sauce.

Veal scaloppine in parmigiano, white wine-lemon sauce, and French beans.

Mediterranean sea bass, almonds, lemon sauce, and French beans.

Chicken breast encrusted in herbs and breadcrumbs, lemon sauce, served with ratatuielle.

Pounded breaded veal, marinara, fontina cheese, and French beans.

Chicken scaloppine, porcini mushrooms, butter-nut squash, white-wine sauce, broccoli.
Antipasti

Mussels in a spicy marinara broth.

Gluten Free

Sliced eggplant layered with ricotta cheese, spinach, marinara sauce, and melted fontina cheese.

Grilled octopus, Kalamata olives, fingerling potatoes, and oven roasted tomatoes.

Gluten Free

Chicken livers sauteed with balsamic vinegar, caramelized onions, mushrooms, and parmigiano basket.

Crispy artichokes and mild spicy marinara.

Burrata mozzarella infused with black truffle, prosciutto di Parma

Gluten Free

Little neck clams with seasoned bread crumbs.

Lightly battered calamari, spicy marinara sauce.

Fresh polenta, porcini mushrooms, melted gorgonzola cheese.

Insalate

Baby arugula, pistacchio, dried cranberries, apples and feta cheese, and lemon dressing.

Gluten Free

Mixed greens with baked goat cheese, walnuts, tomatoes, olive oil, and red wine vinegar.

Artichokes, arugula, endive, and lemon dressing.

Gluten Free

Caesar salad with little gem Romaine, croutons, and Caesar dressing.

Arugula, endive, radicchio, and house dressing.

Gluten Free

White cabbage, frisee, cailiflower, fennel, endive, shaved parmigiano, white truffle dressing.

Watercress, fennel, pomegranate, caramelized walnuts, orange, raspberry vinaigratte.

Pasta

Scialatielle Cacio e Pepe

Scialatielle with caciotta cheese and fresh pepper.

Homemade ricotta cavatelli, marinara sauce, fresh mozzarella

Roll of pasta filled with spinach, porcini mushroom, ricotta, and pink sauce.

Spaghetti with meatballs and marinara.

Pappardelle with meat ragu.

Linguine, New Zealand cockles, parsley, and olive oil.

Tagliolini Neri allo Scoglio

Squid ink tagliolini with mixed seafood in a mild spicy marinara sauce.

Homemade spinach strozzapreti, duck ragu.

Penne, broccoli, carrots, cherry tomato, garlic and olive oil.

Risotto, dried porcini mushrooms.

Homemade halfmoon shaped ravioli filled with prosciutto di Parma, cream sauce, mushrooms, sweet peas

Gnocchi ai Quattro Formaggi

Homemade potato dumplings, four cheeses sauce.

Secondi

Chicken on the bone, sausage, broccoli, and white wine-lemon sauce.

Chicken scaloppine, porcini mushrooms, butter-nut squash, sweet peas, white-wine sauce, broccoli.

Veal scaloppine in parmigiano, white wine-lemon sauce, and French beans.

Pounded breaded veal, marinara, fontina cheese, and French beans.

Grilled veal T bone, port wine and brown sauce reduction, truffle carpaccio, and roasted fingerling potatoes. Please specify cooking temp, rare, med rare, med, med well, well done.

Salmerino Alpino (Artic Char)

Pan seared Artic Char filet, hearts of palm, cherry tomatoes, asparagus, lemon sauce, spinach.

Gluten Free

Branzino, mussels, clams, shrimps, and scallops in shrimp bisque.

Gluten Free

Mediterranean sea bass, almonds, lemon sauce, and French beans.

Penne, Vodka sauce (tomato and cream)

Chicken breast encrusted in herbs and breadcrumbs, lemon sauce, served with ratatuielle.

Salmerino Alpino (Artic Char)

Pan seared Artic Char filet, hearts of palm, cherry tomatoes, asparagus, lemon sauce, spinach.

Gluten Free

Grilled Berkshire pork chop, fresh herbs, roasted fingerling potatoes,

Contorni

Roasted fingerling potatoes, rosemary, and herbs.

Flash fried shishito peppers.

Sautéed or steamed broccoli

Sautéed or steamed spinach

Steamed or sautéed French beans

Sautéed or steamed broccoli rabe