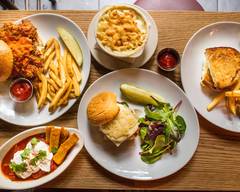 lelabar
View delivery time and booking fee.
Location and hours
422 Hudson St, New York, NY 10014
Sunday
04:00 PM - 11:30 PM
Monday - Thursday
05:00 PM - 11:59 PM
Friday - Saturday
05:00 PM - 02:00 AM
422 Hudson St, New York, NY 10014 • More info
---
Small Bites

Cultured vermont butter and sea salt.

Marinated with olive oil, lemon, and honey. Tossed with basil and pistachio.

Contains Nuts

Marinated with lemon, olive oil, and parsley.

Cherry tomatoes, basil, and toast points.

Finished traditionally from Mediterranean with butter and scallions.

Red pepper, red onion, egg plant, and fontina.

Prosciutto Pressed Sandwich

Prosciutto, fontina, and gremolata.

Cheese Trio Pressed Sandwich

Manchego, gruyere, fontina, and truffle oil.

Cheese and Charcuterie for Two

Cornichon, mustard, compote, and fresh bread.

Desserts

Served with ricotta cream.

A mix of milk and dark chocolate.