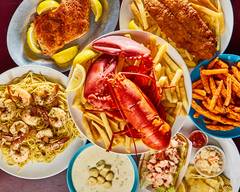 Jordan's Lobster Dock
4.1
(36)
  •  
View delivery time and booking fee.
Location and hours
3165 Harkness Ave, Brooklyn, NY 11235
Sunday
11:00 AM - 07:30 PM
Monday
Closed
Tuesday - Thursday
11:00 AM - 07:30 PM
Friday - Saturday
11:00 AM - 08:30 PM
Of all the restaurants and retailers in Gerritsen Beach, Jordan's Lobster Dock is among the 10 places users order from the most. One of the most ordered items on the menu among Uber Eats users is the lobster bisque and corn on the cob and the lobster dinner specials are two of the items most commonly ordered together at this afternoon go-...
Show more
Of all the restaurants and retailers in Gerritsen Beach, Jordan's Lobster Dock is among the 10 places users order from the most. One of the most ordered items on the menu among Uber Eats users is the lobster bisque and corn on the cob and the lobster dinner specials are two of the items most commonly ordered together at this afternoon go-to. • ¢¢ •
Pasta
 • 
Fish and Chips
 • 
Sandwich
 • 
Family Friendly
3165 Harkness Ave, Brooklyn, NY 11235 • More info
Well packed
 • 
Fast & reliable
---
Picked for you

State O'Maine Lobster Meat w/ FRIES

Fried fillet, shrimp, bay scallops, fish cake, and clam strips.

1 (1/4) Lbs. Each, Steamed or Broiled, Served with Fries and Coleslaw

Snow crab legs steamed with fresh garlic.

Appetizers

Steamers with Side of Broth and Butter

Soups

Manhattan (Red) Cup or Bowl

Served with Oyster Crackers

Clams and Oysters on the Half Shell

Seafood Platters (Served w/ Fries)

Fish and Chips Fresh Fillet Battered and Fried Platter

Fish and Chips with Double Fillet Platter

Fresh Fillet Broiled Plain Platter

Fried fillet, shrimp, bay scallops, fish cake, and clam strips.

Snow crab legs steamed with fresh garlic.

Pasta

(Linguine) Marinara Sauce

(Linguine) Shrimp Marinara

Maine Lobster

1 (1/4) Lbs. Each, Steamed or Broiled, Served with Fries and Coleslaw

Seafood Sandwiches

Jordan's Famous Lobster Roll

State O'Maine Lobster Meat w/ FRIES

Chicken and Burgers

Side Orders

Corn on the Cob (Seasonal)

Soft Beverages

Desserts

Whistle Stop Bakery Cheese Cake