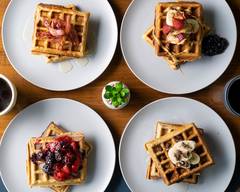 Tantogusto
View delivery time and booking fee.
Location and hours
Sunday
Closed
Monday - Saturday
08:30 AM - 02:50 AM
Prol. Álvaro Obregón 686, Primer Cuadro, 80000 Culiacán Rosales, Sin., México, Sin. 80000 • More
---
Cafeteras manuales

Especialidades de café

Twist de limón, extracción de café en frío, hielo y agua tónica.

Twist de naranja, extracción de café en frío, hielo y ginger ale.

Bebida de arroz con un shot de espresso.

Bebidas a base de espresso

Extración de café de entre 1 y 2 oz.

Espresso con 1 oz. de leche.

Cajeta, cacao, vainilla o caramelo.

Espresso con una bola de nieve encima.

Extracción de café en frío.

Espresso en las rocas con licor de miel.

Tés y tisanas

5 flores y hierbas relajantes.

Bebidas

Bonafont. 500 mililitros.

Frappés

14 onzas. Con nieve, oreo, moka, cajeta o vainilla.

Waffles

Acompañado con una compota de frutos rojos.

Cafe en grano

Toast y sándwich

Con queso mozzarella y tomate.