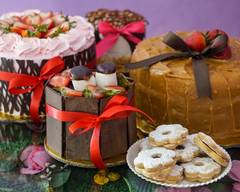 Sabrinna Pastelería (Humaya)
View delivery time and booking fee.
Location and hours
Sunday
11:00 AM - 05:30 PM
Monday - Saturday
09:00 AM - 07:30 PM
---
Galletas

Galleta en forma de centenario, rellena de cajeta y espolvoreadas con azúcar glass.

Pasteles

Pan de vainilla con un cheesecake en medio.

Pan de vainilla relleno de Nutella forrado de cajeta.

Pande chocolate relleno de crema de avellana, forrado de cacahuate y con un ganaché de avellana.

Pan de chocolate relleno de cajeta con cacahuate, forrado de betún de queso y con un ganache de chocolate.