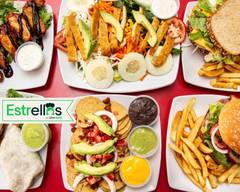 Location and hours
Avenida Centenario 394, Local 22, Mexico City, Mexico City 01600
Every Day
11:00 AM - 09:00 PM
Gastronomía Mixta
Enter your address above to see fees, and delivery + pickup estimates.
$$ • American
Picked for you

Ensalada Explosión Tropical

Ensalada Campesina

Gastronomía Fast Food

Hamburguesa Jamón y Queso

Hamburguesa Hawaiana con Tocino

Barra de Ensaladas

Ensalada Campesina

Ensalada Crunchy & Bacon

Ensalada Dulce

Ensalada Explosión Tropical

Ensalada Fusilli & Panela

Ensalada Guacamole Breast

Ensalada Philadelphia

Gastronomía Mexicana

Pechuga de pollo empanizada con papas

Pechuga asada con ensalada y papas

Milanesa de res empanizada con papas

Pambazo de longaniza con papas

SNACKS

Papas chips con 4 salchichas en forma de pulpo, cátsup, valentina y queso cheddar.

Orden de 130 gramos, con queso cheddar, cátsup y valentina.