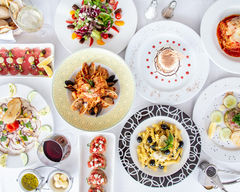 ---
Secondi

Melanzane parmigiana

Berenjena frita y horneada con queso y salsa de tomate. 4 piezas. 120 gramos. Fresh breaded eggplant, fried, then baked with cheese & tomato sauce.

Pollo alla pizzaiola

Pechuga de pollo empanizada cubierta con salsa de tomate y queso mozzarella. 250 gramos. Fresh breaded eggplant, fried, then baked with cheese & tomato sauce.

Pesce alla toscana

Filete de pescado cocinado al vapor con vino blanco, espinaca y arúgula con hojuelas de almendra en salsa ligera cremosa con puré de papa y vegetales. 180 gramos. Sauteed fresh fish fillet steamed in a creamy white wine sauce, spinach and arugula sauce, topped with toasted almonds, served with mashed potatoes and vegetables.

Arrosto di salmone

Salmón asado servido con puré de haba ensalada de rábano y vinagreta de cítricos. 180 gramos. Roasted Salmon served with fava puree, radish salad and citrus vinaigrette.

Gamberi gorgonzola

Camarones gigantes cocinados al vino blanco y bañados con salsa cremosa gorgonzola, montado sobre cama de nuestro delicioso spaguetti a la puttanesca. 200 gramos. Large shrimp cooked with white wine and topped in a creamy gorgonzola sauce. Served with our delicious puttanesca spaghetti.

Tagliata rucola e grana

Medallones de filete de res con arúgula, láminas de grana padano, aceite de trufa blanca acompañado con papas al romero. 200 gramos. Prime beef Medallion with arugula, grana Padano cheese slices and white truffle oil served with rosemary potatoes.

Vitello Porto Bello

Escalopa de ternera con salsa cremosa de vino blanco, hongo porto bello y camarones. 210 gramos. Veal cutlets with a creamy white wine sauce, Porto Bello mushrooms & shrimp.

Ossobuco di vitella

Ossobuco de ternera acompañado de risotto con hongo Porto Bello y vino blanco. 890 gramos. Veal ossobuco with risotto, Porto Bello mushrooms and white wine.

Costata di manzo

USDA choice ribeye 450 gramos, cocinado a las brasas acompañado de puré de papa a la italiana, espinacas al limón y espárragos. Charcoal grilled USDA Choice Ribeye 450 grams, served with Italian style mashed potatoes, butter, lime spinach and asparagus.

Antipasti

Bruschetta Porto Bello

Pan italiano con jitomate fresco, albahaca, aceite de olivo extra virgen, lechuga arúgula y queso de cabra. 4 piezas. Italian bread topped with fresh tomato, basil, extra virgin olive oil, arugula lettuce and goat cheese.

Melanzana del mediterráneo

Láminas de berenjena envueltas en prosciutto con queso parmesano cubierta con salsa de tomate y gratinada con queso mozzarella al horno. 4 piezas. Eggplant layers wrapped with prosciutto and parmesan cheese topped with tomato sauce and baked with mozzarella cheese.

Burrata pugliese con prosciutto

Mozzarella casera de la región de plugi servida con jitomates cherry rojos y amarillos con salpicadura de aceite de oliva extra virgen y albahaca. 140 gramos. Homemade Puglia's mozzarella cheese served with red and yellow cherry tomatoes with a splash of basil and extra virgin olive oil.

Sicilian tuna tartar

Atún estilo tártaro con ensalada de pepinillos, alcaparras, mostaza de dijon, ajonjolí tostado, aceite cítrico y crotones de pan italiano. 110 gramos. Yellowfin tuna tartar mixed with pickles, capers Italian croutons and toasted sesame salad in a lemon scented olive oil and dijon mustard dressing.

Calamari fritti

Calamar frito, recomendado para dos personas. 250 gramos. Fried squid recommended for 2 persons.

Carpaccio del chef

Res, pulpo, atún o salmón, recomendado para dos personas. 90 gramos. Beef recommended for 2 persons.

Fungotto ripieno porto bello

Hongo Porto Bello a la parrilla, relleno de espinacas, cebolla caramelizada y queso feta. 130 gramos. Porto Bello Mushroom grilled, stuffed with spinach, caramelized onions and feta cheese.

Cozze all'amalfitana

Mejillones frescos, salteados con ajo, chile, jitomate, albahaca y vino blanco. 190 gramos. Fresh mussels sauteed with garlic, chile, tomato, basil and white wine.

Zuppe

Minestrone

Nuestra clásica sopa italiana con vegetales, pasta hecha en casa y salsa de tomate. 200 mililitros. Our classic italian soup, rich with vegetables & homemade pasta in a savory tomato.

Crema vongole

Crema de almeja con un toque de vino blanco. 200 mililitros. Cream of clam soup with a touch of white wine.

Insalate

Insalate alla Giulio Cesare

Ensalada César al estilo Porto Bello, pedacitos de tocino opcional. 90 gramos. Caesar salad, Porto Bello style bacon bits optional.

Insalata di carciofi

Mezcla de lechugas baby, bañada con vinagreta de balsámico y gajos de alcachofas en aderezo marino con crotones de queso parmesano. 100 gramos. Baby lettuce mix in balsamic vinaigrette and artichoke wedges in navy dressing with parmesan croutons.

Insalata caprese

Rebanadas de queso mozzarella, tomate con aceite de olivo y pesto de albahaca. 200 gramos. Sliced mozzarella cheese, tomato, olive oil and basil pesto.

Insalata bistro

Lechuga baby mix con nuez caramelizada, queso feta, gajos de mandarina y fresa. 100 gramos. Baby green lettuce with honey glazed pecans, feta cheese, mandarine and strawberries.

Insalata di calamari grigliati alla sarda

Tubo de calamar americano con limón amarillo y aceite puro extra virgen, sellado a la parrilla y acompañado de una ensalada fresca de la isla de Cerdeña. 120 gramos. Chargrilled whole squid seasoned with lemon and extra virgin olive oil served with a fresh Sardinian style salad.

Paste

Cannelloni

Pasta rellena con queso ricotta y espinacas, horneada con salsa de tomate y queso parmesano. 3 piezas. 240 gramos. Cannelloni filled with ricotta cheese and spinach, baked in tomato sauce with parmesan cheese.

Lasagna della nonna

Lasagna al horno con salsa de carne. 450 gramos. Baked lasagna with meat sauce.

Capellini con gamberetti e pomodorini

Pasta capellini cocinada con ajo, aceite de oliva extra virgen, camarón pacotilla, jitomate uva, perejil y vino blanco. 180 gramos. Capellini pasta and baby shrimps, sautéed with extra virgin olive oil, garlic, cherry tomatoes, parsley and white wine.

Fusilli porto bello

Fusilli con alcachofas, aceitunas negras, jugo de limón, ajo, albahaca y aceite de olivo extra virgen. 180 gramos. Fusilli with artichokes, black olives, lemon juice, garlic, basil and extra virgin olive oil.

Farfalle al salmone

Pasta de moñitos en salsa cremosa rosada de salmón ahumado y flameado con vodka. 180 gramos. Bowtie pasta in a rosy cream, smoked salmon sauce flamed with vodka.

Ravioli del chef

Ravioli de la casa pregunta a su mesero. 210 gramos. Ravioli of the house ask your waiter.

Tricolore pollo rosé

Rigatoni tres colores salteada con ajo, espárragos, pollo, espinacas, vino blanco y hongos mixtos con una salsa rosada especial. 180 gramos. Tricolor pasta in a light cream pink sauce with garlic, spinach, white wine, misted mushrooms, asparagus and chunks of grilled chicken breast.

Spaghetti al cartoccio

Cremosa salsa rosada con mariscos y vino blanco, empapelado al horno. 180 gramos. Spaghetti with seafood in a creamy pink y white wine sauce, foil wrapped y baked.

Linguine frutti di mare

Linguini con mariscos en salsa ligera de tomate. 180 gramos. Linguine with seafood in a light tomato sauce.

Linguine vongole e gamberetti

Linguine con almejas y camaroncitos, salteados en ajo, vino blanco, aceite de oliva extra virgen y perejil. 180 gramos. Linguine with clams and baby shrimp sauteed in garlic, white wine, extra virgin olive oil and parsley.

Risotto

Risotto al funghi porcini

Cremoso arroz italiano con zetas y queso parmesano. 180 gramos. Creamy Italian rice with truffle oil, porcini mushrooms and parmesan cheese.