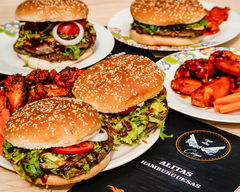 Wingsland Hot (Ejido)
4.6
(81)
  •  
View delivery time and booking fee.
Location and hours
Ejido Teneria Del Santuario 125, Monte Blanco, Celaya, Guanajuato 38099
Every Day
11:00 AM - 10:00 PM
Delivered by Wingsland Hot (Ejido)
This restaurant uses its own couriers. You'll get updates, but can't track their location.
Why can't I track my order?
---
Hamburguesas

Carne arrachera de 150 gramos y salsa BBQ.

Carne arrachera, 2 piezas de 150 gramos y salsa BBQ.

Carne arrachera de 150 gramos, piña, tocino y salsa BBQ.

Carne arrachera, 2 piezas de 150 gramos, piña, tocino y salsa BBQ.

Hamburguesa con papas gajo o papas a la francesa

Hamburguesa de Res, Jitomate, Cebolla y BBQ

Alitas

Aderezo ranch, 1 onza y bastones de zanahoria.

Aderezo ranch, 3 onzas y bastones de zanahoria.

20 piezas de alitas con 2oz de aderezo ranch y bastones de zanahoria

Combo 1

Hamburguesa Arrachera + 5 alitas

Combo 2

2 Hamburguesas Arrachera + 10 alitas

Combo 3

Hamburguesa arrachera + papas + coca cola 355ml

Hamburguesa arrachera, papas gajo o papas a la francesa con aderezo y Coca cola 355ml

Adicionales

150g de cebolla con 1oz de Catsup

300g de papas a la francesa con 1oz de catsup

250g de papas gajo con chile en polvo con 1oz de aderezo ranch

Combo 4

Hamburguesa + 5 alitas + Coca-Cola 355ml

Hamburguesa arrachera + 5 alitas con tu salsa favorita y coca cola 355ml

Combo 5

20 pzas de alitas con bastones de zanahoria y 2 oz de aderezo ranch + 1 orden de papas a elegir (Papas a la Francesa o papas Gajo)

Boneless

350g de Boneless acompañados con bastones de zanahoria y 1oz de aderezo ranch

Boneless 700g (2 órdenes de 350g)

700g de Boneless acompañados de bastones de zanahoria y 2oz de aderezo ranch