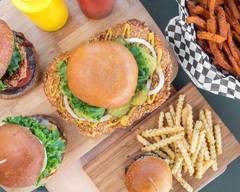 Nicollet Island Inn
$ • Burgers • American • Sandwiches
View delivery time and booking fee.
Location and hours
Nicollet Island Inn 95 Merriam St, Minneapolis, MN 55401
Sunday - Wednesday
Thursday - Saturday
04:00 PM - 08:00 PM
Nicollet Island Inn 95 Merriam St, Minneapolis, MN 55401 • More info
---
Soup and Salad

Wedge Salad

Buttermilk ranch and blue cheese dressing, tomatoes, bacon, red onions, and romaine lettuce.

Wild Rice Soup

MN wild rice, cream, carrot, celery, and onion.

Appetizers

Shrimp Cocktail

5 jumbo shrimp, Asian slaw, Asian glaze, and ponzu sauce.

Cheese Plate

Selection of two artisan cheeses, locally raised honey, and fruit compote. We are currently offering dulce gorgonzola/blue from Italy and an aged white cheddar

Deviled Eggs

Bacon and dark truffle shavings

Thai Curry Mussels

PEI mussels, lime, carrots, garlic, cilantro, and basil toasted bread.

Sandwiches

Breaded Walleye Sandwich

Batard, remoulade, and coleslaw. Comes with French Fries

Mpls Cheese Steak Sandwich

Filet mignon, sauteed peppers, onions, aged Cheddar, and horseradish aioli on Cuban loaf. Comes with French Fries

Nic's Burger (1/2 lb)

House ground filet mignon, bacon, Cheddar Gruyere, greens, smoked tomato jam, and dijon. Comes with French Fries

Reuben Sandwich

House-Brined Corned Beef, Swiss Cheese, Sauerkraut, Dijon Mustard, Thousand Island Dressing on Pumpernickel. Comes with French Fries

Meatball Sandwich

House-Made Meatballs, Mozzarella Cheese, Marinara Sauce, Cuban Loaf Bread. Served with French Fries

Entrees

Braised Waygu Tagliatelle (6 oz)

Wagyu short rib, tomatoes, broccolini, onions, jus, and creme fraiche.

Breaded Walleye

MN wild rice, lemon haricot verts, and remoulade.

Rigatoni

Italian sausage, meatballs, and creamy marinara topped with Parmesan cheese.

Filet Mignon (8 oz)

Fillet from Revier farms natural, roasted mushrooms, asparagus, pomme puree, and bordelaise.

Scallops (3 pcs)

3 U10 seared scallops, bacon, and sauteed Asian salad sweet ginger soy glaze.

Wagyu Skirt Steak

8oz Cut, Sautéed Broccoli Slaw, Green Onion Balsamic Vinegar Churi Sauce

Desserts

Amaretto Espresso Cheesecake

With bourbon chocolate sauce.