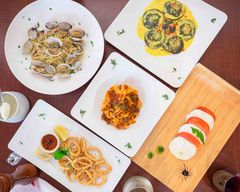 ---
Antipasti

Parmigiana di Melanzane

Breaded and deep-fried slices of eggplant covered with marinara sauce and melted mozzarella cheese.

Calamari Fritti

Crispy calamari rings served with homemade spicy tomato sauce.

Polpo Grigliato alla Campagnola

Grilled octopus served with a mashed potato enriched with Italian dry sausage, fresh herbs and crispy capers topped with truffle oil.

Salumi e Parmigiano-Reggiano

*Wood board topped with sliced Prosciutto di Parma, Nduja Coppa Piccante, supreme chorizo and pieces of 18 aged Parmigiano-Reggiano, mixed greens salad, bell peppers and kalamata olives.

Insalate

Insalata di Fichi e Prosciutto di Parma

Dried fig halves stuffed with Gorgonzola cheese on mixed greens in a balsamic vinegar reduction dressing accompanied with Prosciutto di Parma.

Insalata Caprese

Supreme fresh buffalo mozzarella with slices of tomato topped with basil, olive oil and pesto sauce.

Insalata Cesar

Chopped romaine lettuce in a traditional Caesar dressing topped with homemade croutons and grated Parmesan cheese.

Quattro Colori

Mixed greens salad in a balsamic vinegar reduction dressing topped with shredded carrots, chopped tomatoes and 18 months aged Parmesan cheese.

Primi Piatti

Penne Senza Glutine con Verdure

Gluten-free Penne pasta sautéed with mixed vegetables in a light Marinara sauce.

Spaghetti Bolognese

Spaghetti sautéed in a homemade meat and tomato sauce.

Fettuccine all'Alfredo

Homemade fettuccine in a cream and parmesan cheese sauce.

Pappardelle ai Funghi Porcini

Homemade pappardelle in a creamy base sauce enriched with the unique flavor of our porcini mushroom.

Linguine alle Vongole

Linguine pasta served with fresh middle neck clams in white wine, garlic and parsley sauce.

Carbonara di Mare

Traditional Fettuccine Carbonara with a delicate touch of our finest seafood selection that includes pieces of wild salmon, calamari and shrimp.

Risotto al Limone

Creamy Italian carnaroli rice enriched with white rum, mint, lemon and sautéed shrimps topped with white wine and lobster sauce.

Ravioli

Ravioli Ripieni di Salsiccia e Broccoli

Fresh signature pasta stuffed with broccoli and Italian sausage covered with white wine, red pepper flakes, fresh tomato chunks and crunchy chorizo sauce.

Ravioli di Zucca

Unrivaled ravioli stuffed with pumpkin in a marsala wine cream sauce with honey and rosemary.

Ravioli Ripieni di Carciofi

Ravioli stuffed with artichoke and ricotta cheese in a white wine sauce with fresh tomatoes and basil.

Ravioli Ripieni di Carne

Short rib pieces enrobed in herb-flecked pasta topped with oven-roasted tomatoes and sage sauce.

Ravioli Ripieni di Osso Buco allo Zafferano

Ravioli stuffed with veal Osso Bucco topped with saffron sauce, white truffle oil and fresh tomato.

Ravioli di Granchio

First-rate crabmeat ravioli in a lobster sauce with fresh tomato and basil.

Ravioli Ripieni di Aragosta

Delicately selected pieces of lobster encased in a homemade pasta topped with a creamy brandy sauce.

Fatti in Casa

Gnocchi Amatriciana

Handmade potato dumplings in a Marinara sauce with pancetta, pecorino cheese and onion.

Fiocchi di Pera

Homemade Fiocchi stuffed with pear and gorgonzola cheese covered with a delicate truffle creamy sauce.

Sacchettoni Ripieni di Tartufo e Formaggio

Handmade Sacchettoni stuffed with mozzarella cheese and truffle, topped with 24 months aged parmesan cheese cream finished with a balsamic vinegar infused with fig.

Tortellini Ripieni di Vitello e Carne

Homemade Tortellini stuffed with beef and veal, prepared in a glace of red wine and caramelized shallots.

Linguini Nero di Seppia ai Frutti di Mare

Fresh black squid ink linguine tossed with prime seafood (shrimp, calamari, mussels and clams) in an aromatic Pomodoro sauce.

Alla Griglia

Pollo alla Griglia

Organic chicken breast prepared on the grill and accompanied with mixed greens salad topped with fresh tomato.

Salmone Grigliato

Grilled piece of wild salmon in white wine and shallots sauce accompanied with mashed potatoes and mixed vegetables.

Churrasco alla Griglia

7 ounces of prime grilled churrasco topped with chimichurri and fries on the side.

Bistecca di Manso

Grilled Prime NY strip loin in a red wine reduction sauce with fresh herbs accompanied with Risotto Parmigiano.

Secondo Piatti

Pollo alla Parmigiana

Lightly breaded and deep-fried organic chicken breast layered with Marinara sauce and melted mozzarella cheese served with linguine in a garlic and olive oil sauce.

Pollo al limone

Organic Chicken breast sautéed in a white rum, fresh mint and herbs sauce accompanied with mixed vegetables.

Pollo al Funghi

Organic chicken breast in a creamy mushroom sauce served with mashed potatoes.

Vitello alla Milanese

Lightly breaded and deep-fried veal medallion served with fresh arugula salad and chopped tomatoes.

Vitello alla Marsala

Veal medallion sautéed in marsala wine and mushroom sauce served with mashed potatoes.

Dolci

Sicilian Cannoli

A pastry shell internally coated in chocolate and filled with ricotta, candied fruit and chocolate chips.

Tiramisu

Layers of sponge cake drowned in espresso coffee divided by mascarpone cream enriched with coffee liqueur dusted with cocoa powder.

Torta Della Nonna

Pastry cream with a hint of lemon on a base of short pastry, covered with pine nuts, almonds and powdered sugar.

Profiteroles

Cream puffs filled with chantilly cream and enrobed in chocolate.

Soberto Misto

Mango, passion fruit and raspberry sorbet covered with white chocolate.

Beverages

Coca-Cola

Enjoy Coca-Cola's crisp, delicious taste with meals, on the go, or to share. Serve ice cold for maximum refreshment.

Diet Coke

It's the one and only Diet Coke. It's your everyday hero. Your deliciously fizzy go-to companion. It might have a brand new look, but it's the same Diet Coke you know and love. Oh yeah, and it's incredibly refreshing, always.

Sprite

Introduced in 1961, Sprite is the world's leading lemon-lime flavored soft drink. It has a crisp, clean taste that really quenches your thirst.