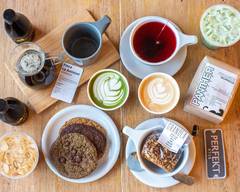 Panther Coffee (MiMo)
4.3
(25)
  •  
View delivery time and booking fee.
Location and hours
6407 Biscayne Blvd, Miami, FL
Every Day
07:00 AM - 06:30 PM
Sustainable packaging
 • 
Well packed
---
Box of Coffee

Panther Coffee Cold Brew Ready to Drink - 101oz Bag In Box

1 carton of half & half or non-dairy milk, sleeve of cups ], sweetener, and stirrers.

Bag of Coffee

Coffee

A double shot of our single-origin espresso.

Double shot of espresso over hot or ice cold water.

A double shot of espresso with milk. Hot with micro-foamed milk, or iced.

Rotating selection of single origin coffees. Brewed fresh, hot, and ready.

Notes of malted milk, deep chocolate, vanilla, honey, and cherries. Served over ice.

Creamy and smooth with gorgeous cascade and notes of malted chocolate and vanilla.

Panther Coffee Bottled Cold Brew

4 x 7.5 oz. Cold Brew bottles

Tea

Rishi's Turmeric Ginger Herbal Tea

Organic, stone ground matcha.

Powdered organic yellow-skinned ginger, organic honey, and organic turmeric.

From Tipu's authentic Indian chai blend.

Other Beverages

Orange Juice from 305 Squeezed

All natural, locally produced orange juice

Food

Mushroom and onion empanada from local plant based company Artichoke.

Empanada made with non-GMO meatless crumble beef made from 100% pant protein, from local plant based company Artichoke.

Tartastic Bacon Egg & Cheddar Biscuit Sandwich

Buttermilk cheddar biscuit, organic egg, bacon, béchamel.

Tartastic Egg White & Spinach Buttermilk Biscuit Sandwich

Buttermilk biscuit, free range egg white, spinach, caramelized onion, Swiss cheese, béchamel.

Tartastic Sausage, Egg & Gravy, Biscuit Sandwich

Organic egg, sausage, maple gravy, buttermilk biscuit from Tartastic

Sweet Potato, Black Bean & Feta Frittata (GF)

Sweet potato, black bean & feta frittata from Tartastic

Puff pastry stuffed with beef, egg, vegetables, and sauce.

Puff pastry stuffed with chicken, egg, vegetables, and sauce.

Yummy Puffy - Ham and Cheese

Puff pastry stuffed with ham and cheese.

Pastries & Cookies

Zak the Baker chocolate croissant

Zak the Baker apple turnover

Zak the Baker almond croissant

Salted Chocolate Chip Cookie

Salted chocolate chip cookie from Tartastic

Gluten-free coconut macaroon from Tartastic

Snacks

Vermont Smoke & Cure Meat Stick

PamelaWasabi - Celestial Chunk Cookie

The best vegan and gluten-free chocolate chip cookie recipe ever! Studded with chocolate chips and charcoal salt.

PamelaWasabi - Divine Chocolate Cookie

Vegan and gluten-free double chocolate cookie. With wild cherry and smoked salt.

PamelaWasabi - Mother Bean Brownie

Vegan and gluten-free fudgy chocolate brownie.

PamelaWasabi - Sacred Coffee Blondie

Vegan and gluten-free blondie. Chickpea blondie infused with cold-brew, a touch of cinnamon and studded with chocolate chips.