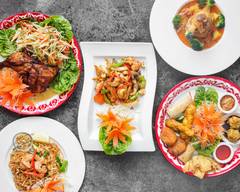 Jarern Kitchen
$$ • Thai • Asian • Noodles • Kids Friendly • Vegetarian Friendly • Chicken
4.5
(51)
  •  
View delivery time and booking fee.
Location and hours
Sunday
05:00 PM - 09:00 PM
Monday
Tuesday - Thursday
05:00 PM - 09:00 PM
Friday - Saturday
05:00 PM - 09:30 PM
810 Wilmslow Rd,  • More info
Delivered by Jarern Kitchen
This restaurant uses its own couriers. You'll get updates, but can't track their location.
Why can't I track my order?
---
Starters

Prawn Crackers

Good to have while your food is beeing cooked. Deep fried prawn crackers.

Thai Hors D'Oeuvre Serves 2

A selection of grilled chicken satay, spicy Thai fish cake, steamed Chicken and Prawn dumplings, vegetable spring rolls, and butterfly wonton.

Chicken Satay 4 Skewers

Marinated grilled chicken on skewers. Served with a peanut, cucumber, and shallot relish.

Gluten

Corn Fritters 4 Pieces

Deep fried mixed sweetcorn with red curry paste and aromatic lime leaves.

Vegetarian

Edamame

Steamed edamame pods with salt.

Vegetarian

Crispy Tofu

Deep fried crispy tofu served with spicy sweet and sour chilli peanut sauce.

Vegetarian

Vegetable Tempura

A selection of deep fried mixed vegetables coated in a light batter.

Vegetarian

Spring Rolls 4 Pieces

Crispy spring rolls fillet with mixed vegetables.

Vegetarian

Sesame Prawns on Toast

Deep fried marinated minced prawns sprinkled with sesame seeds.

Fish Cake 4 Pieces

A popular local delicacy. Thai style fish cake.

Butterfly Wonton 4 Pieces

Minced chicken wrapped in wonton crepe and deep fried.

Grilled Pork 4 Skewers

Grilled marinated pork on skewers served with a delicious tamarind dipping sauce. Delicious. Eat them and imagine you're on the streets of Bangkok

Pork Ribs

Braised and deep fried. Golden pork spare ribs in home style.

Chicken and Prawn Dumplings 4 Pieces

Steamed Thai dumplings stuffed with chicken and prawns.

Chicken Wings

Deep fried chicken wings.

Prawn Tempura 4 Pieces

Deep fried king prawns in tempura batter.

Salt and Pepper Squid

Tender squid lightly coated in batter and then deep fried until it fluffs up. Massively popular. Sprinkled with sea salt, pepper powder, and spring onion.

Duck Spring Rolls

An alternative treat the usual spring rolls, braised shredded duck mixed with shredded carrot, leek, and celery wrapped in Thai pastry.

Papaya Salad

Thailand street food. Fresh, shredded papaya pounde and mixed with chilli, garlic tomato, long beans, lime juice, fish sauce, peanuts, and shredded carrot.

Spicy

Papaya Salad and Grilled Pork

Massively popular papaya salad served with 3 grilled pork skewers and sticky rice. Great for sharing.

Spicy

Minced Pork Salad

Bangkok version of the street food stale Larb. Hot and spicy minced pork salad.

Gluten - Hot

Fishing Village

Mixed seafood salad with spicy chilli, tomato, lime, celery & garlic dressing

Hot

Soups and Noodles

Thai Spicy Soup

Hot and spicy creamy soup. The flavour is from lemongrass, galangal, lime leaves, mushroom, chilli, and cream carnation milk.

Spicy

Prawn and Chicken Wontons

Steamed homemade prawn, and chicken wontons.

Steam Mussels in Coconut Milk

Steamed mussels with mushroom and coconut milk.

Spicy

Coconut Soup

Coconut milk make it delicious. Creamy mushroom. The spiciness and fragrance of the Thai herbs is addictive.

Spicy

Khao Soi

Northen Thailand style curry in egg noodle, coconut milk, boiled egg, and pickle.

Sukiyaki 

Hot and sour of glass noodle, egg, celery, mixed vegetables, and sesame seeds.

Spicy

Rad Na

Flat rice noodle soup in soy gravy, mushroom, and mixed vegetables.

Duck Noodle Soup

Rice noodle in herbal broth with sliced, stewed duck.

Noodle Soup

Savoury rice noodles in clear herbal broth.

Shef's Recommendation

Pineapple Rice

Stir fried pineapple rice with chicken and prawns.

Mixed Seafood

Stir fried mixed seafood with Thai herbs, chilli, and garlic.

Spicy

Honey Duck

Roasted and marinated duck served with honey and Thai herbs.

Jumbo Prawns

Stir fried jumbo prawns, sweet and sour chilli, and garlic sauce.

Chilli Beef

Stir-fried slices of beef with chilli, garlic, and lime.

Spicy

Morning Glory

Stir fried morning glory with soybean, chilli, and garlic sauce.

Spicy

Currys

Thai Green Curry

Traditional Thai green curry combination of delicious Thai flavours blended with silky smooth coconut milk.

Spicy

Gaeng Panang

A spicy thick red curry with coconut milk, onion, and Thai herbs.

Spicy

Gaeng Pah

A traditional spicy curry from the Isaan region of Thailand. Served with fresh chilli, bamboo shoots, baby corn, and mushroom.

Spicy

Thai Red Curry

Famous from Thai. Cooking lovely thick aromatic red curry sauce made using coconut milk.

Spicy

Massaman Curry

A Muslim style curry from Southern Thailand, made with coconut milk & mixed spices topped with peanuts.

Fish Dishes

Steamed Sea Bass

Steamed sea bass with soy, ginger, and spring onion.

Deep Fried Sea Bass

Crispy fried sea bass fillet topped with aromatic spicy Thai herbs and red curry sauce.

Spicy

Sweet and Sour Sea Bass

Crispy golden fillet of sea bass topped with sweet and sour sauce.

Stir Fry

Chilli Garlic and Basil

Thai stir fry using chilli garlic and holy basil. One of the most common dishes to eat on the street of Thailand.

Spicy

Sweet and Sour

Stir fried vegetables and pineapple with sweet and sour sauce.

Pad Nam Prik Pow Plamuek

Stir-fried squid with spicy chilli paste. Quickly stir-fried with coconut milk, onions, green peppers, red peppers, and mushrooms topped with sweet Thai basil.

Spicy

Morning Glory

Stir fried morning glory with oyster sauce, garlic, chilli, and soy bean. Add crispy belly pork to make it amazing.

Spicy

Cashew Nut

Stir fried roasted cashew nuts with mushrooms, pepper, onion, and roasted dried chilli.

Spicy

Oyster Sauce

Stir fried Thai style oyster sauce, and spring onion.

Pad Prik Gaeng

Thai red curry with green beans, stir fried red curry paste with green bean, and sweet basil.

Spicy

Pad Khing

Stir fried fresh ginger and mushrooms.

Pad Mee

Stir fried Thai egg noodles with egg, bean sprouts, and spring onions.

Pad Thai

Stir fried Thai rice noodles with sweet & sour tamarind with lemon sauce, egg, peanuts, bean sprouts, and spring onions.

Pad See Ew

Stir fried flat rice noodles with egg, mixed vegetables, soya ben, and spring onion.

Pad Kee Mao

Hot and spicy stir fried Thai flat noodles with chilli, garlic, vegetables, and basil.

Spicy

Kao Pad

Fried rice with egg, tomato, and spring onion.

Kao Pad Spicy

Hot and spicy fried rice with chilli, garlic, long bean, and basil.

Spicy

Side Dishes

Stir Fried Egg Noodle with Bean Sprout

Stir Fried Mixed Seasonal Vegetables

Kids Menu

Kids Fried Chicken Nuggets and Chips

Beverages
Jarern Kitchen has a FHRS rating of 5. This information was updated on 14/05/2020. The current rating is on their page on the FSA Website. Allergies, intolerances and dietary requirements: Before ordering, please contact the restaurant directly and ask to speak to a member of staff who can assist if you require information about ingredients and help cater for your needs.