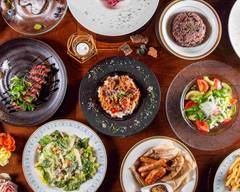 Location and hours
広尾5-4-12 大成鋼機ビル, B1f, Shibuya-Ku, Tokyo 150-0012
Every Day
6:00 PM - 10:00 PM
【キューバサンドがおすすめ】HAVANA 1950
Enter your address above to see fees, and delivery + pickup estimates.
$$ • Latin American
 • 
Mexican
 • 
Vegetarian
 • 
Salads
 • 
Rice Dishes
 • 
Sandwich
Picked for you

人気メニューTOP3

キューバサンド

お肉料理

牛バラと牛モモをほろほろになるまで煮込み、キューバチックなトマトソースで煮込んだキューバの家庭料理。

揚げ物

カリカリのフレンチフライを自家製オーロラソースとご一緒に

ご飯・パン

日本の赤飯に似てるキューバでは家庭的なご飯です。香辛料と共に炊いた米と黒豆はキューバ料理との相性は◎。

タパス

ジャガイモは一度揚げ、中はほくほくにしブロッコリーとベーコンをアンチョビでソテーしました。おつまみにどうぞ。

サラダ

デザート

ドリンク
Contact the store directly ONLY concerning allergen information: store phone number: 0354229008 . / Note: Please contact Uber Eats Support in regards to any issues with your ongoing order. / For disclosure of merchant information in regards to the Specified Commercial Transaction Act Article 11, please contact the store or Uber Eats Support. We will be able to disclose the following information if requested: "Legal Entity Name", "Representative Name (Corporate only)", "Legal Entity Address" ,"Phone Number". For additional information please refer here.