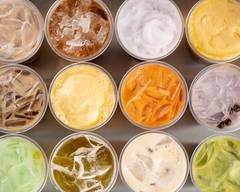 The Teahouse Tapioca & Tea (Chinatown)
4.8
(44)
  •  
View delivery time and booking fee.
Location and hours
9198 Bellaire Boulevard, Houston, TX 77036
Sunday - Thursday
10:00 AM - 10:00 PM
Menu
Friday - Saturday
10:00 AM - 10:00 PM
Menu
11:00 AM - 11:00 PM
Menu
This place is so popular that it's actually one of the 10 most ordered from spots in all of Sharpstown. When in Houston... Consider ordering from The Teahouse Tapioca & Tea, because it's particularly popular among locals. Wish you could ask someone what to order here? Users love the mango cream blend, which is one of the most ordered item...
Show more
This place is so popular that it's actually one of the 10 most ordered from spots in all of Sharpstown. When in Houston... Consider ordering from The Teahouse Tapioca & Tea, because it's particularly popular among locals. Wish you could ask someone what to order here? Users love the mango cream blend, which is one of the most ordered items on the menu at this evening go-to. • ¢ •
Coffee and Tea
 • 
American
 • 
Breakfast and Brunch
 • 
Local Eats
9198 Bellaire Boulevard, Houston, TX 77036 • More info
---
Picked for you

Strawberry Banana Cream Blend

Food Items

Green Teapress

Citrus Chamomile Greenteapress

Drinks also available hot.

Four Seasons Green Teapress

Drinks also available hot.

Japanese Sakura Green Teapress

Drinks also available hot.

Peach Melon Green Teapress

Drinks also available hot.

Roasted Rice Green Teapress

Drinks also available hot.

Teahouse Jasmine Green Teapress

Drinks also available hot.

Black Teapress

Drinks also available hot.

Rose Lychee Black Teapress

Drinks also available hot.

Rose Lychee Cream Teapress

Drinks also available hot.

Strawberry Pomegranate Black Teapress

Drinks also available hot.

Oolong Teapress

Fresh Alison Oolong Teapress

Drinks also available hot.

Honey Red Oolong Teapress

Drinks also available hot.

Osmanthus Oolong Teapress

Drinks also available hot.

Osmanthus Oolong Cream Teapress

Drinks also available hot.

Drinks also available hot.

Tropical Fruits Red Oolong Teapress

Drinks also available hot.

Herbal and Non Caffeinated

Drinks also available hot.

Drinks also available hot.

Drinks also available hot.

Drinks also available hot.

Drinks also available hot.

Drinks also available hot.

Drinks also available hot.

Cream Tea

Drinks also available hot.

Drinks also available hot.

Drinks also available hot.

Drinks also available hot.

Drinks also available hot.

Drinks also available hot.

Drinks also available hot.

Drinks also available hot.

Green and Black Tea

Drinks also available hot.

Drinks also available hot.

Fresh Grapefruit Green Tea

Drinks also available hot.

Drinks also available hot.

Drinks also available hot.

Drinks also available hot.

Drinks also available hot.

Drinks also available hot.

Drinks also available hot.

Drinks also available hot.

Drinks also available hot.

Drinks also available hot.

Drinks also available hot.

Drinks also available hot.

Drinks also available hot.

Drinks also available hot.

Drinks also available hot.

Drinks also available hot.

Drinks also available hot.

Taiwan Pineapple Green Tea

Drinks also available hot.

Coffee and Chocolate

Drinks also available hot.

Hazelnut Coffee Cream Blend

Drinks also available hot.

Drinks also available hot.

Drinks also available hot.

100 Percent Fresh

Cream Blend (Smoothies)

Cookies and Cream Cream Blend

Frozen Matcha Cream Blend

Passion Fruit Cream Blend

Strawberry Banana Cream Blend

Ice Blend (Slushie)

Strawberry Lime Ice Blend