Yenku Sushi Menu and Takeaway in Leicester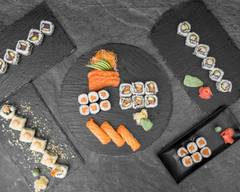 Location and hours
48 Welford Road, Leicester, England LE2 7AA
Sunday
Closed
Monday - Thursday
12:00 - 14:30
Menu
17:00 - 22:00
Menu
Friday
17:00 - 22:00
Menu
Saturday
12:00 - 14:30
Menu
17:00 - 22:00
Menu
Yenku Sushi
4.4 (11 ratings) • Japanese
  •  
More info
48 Welford Road, Leicester, England LE2 7AA
Tap for hours, info and more
Enter your address above to see fees and delivery + pick-up estimates.
Picked for you

Salmon Deluxe (18 pieces)

Inside out tempura roll with tobiko

Appetisers

Miso Soup

Edamame

Gyoza Veg

4 Grilled salmon with teriyaki sauce

Edamame Spicy

Chicken Teriyaki (3 pieces)

Vegetable Spring Roll

Served with sweet Thai chilli sauce.

Poke Bowl Salad

Vegetable Poke

Vegetarian Roll

Cucumber Roll (4 pieces)

Avacado Roll (4 pieces)

Asparagus Roll (4 pieces)

Oshinko Roll (4 pieces)

Natto Roll (4 pieces)

Mixed Veg Roll (4 pieces)

Avocado, asparagus and cucumber.

Gohan

Regular Sushi Rolls

California Roll (8 pieces)

Salmon Avocado (8 pieces)

Tuna Avocado Roll (8 pieces)

Salmon Skin Roll (8 pieces)

Spicy

Natto Maki Roll (8 pieces)

Oshinko Horseradish Roll (8 pieces)

Special Rolls

Chicken Katsu Avocado Japanese Mayo

chefs special tempura roll

Inside out tempura roll with tobiko

Inside out roll with cucumber and avocado topped with spicy tuna.

Hand Rolls

Special Tempura Hand Roll

Eel Avocado and Cucumber Hand Roll

Avocado Vegetable Hand Roll

Natto Hand Roll

Nigiri

Sake Yaki Seared Salmon Nigiri

Sake Yaki Seared Tuna Nigiri

Enari Sweet Bean Curd Nigiri

vegan, vegetarian

Sashimi

3 pieces of Grilled Eel with eel sauce

Mix Sushi Platter

Salmon Deluxe (18 pieces)

Super Salmon & Tuna (12 pieces)

Foxes Platter (65 pieces)

7 Heaven Nigiri Platter (7 pieces)

Super Mix Sashimi (18 pieces)

3 pieces salmon, 3 pieces tuna, 3 pieces seabass, 3 pieces octopus, 3 pieces prawn and 3 pieces squid.

Super Hand Roll Trio Temaki

1 piece salmon avocado hand roll, 1 piece tuna avocado handroll and 1 piece ebi tempura avocado handroll.

Vegetarian Sushi Platter

Super Veg Platter (24 pieces)

8 pieces cucumber avocado inside out, 8 pieces avocado roll and 8 pieces Asparagus.

Super Vege Trio

1 piece avocado cucumber temaki, 1 piece carrot aubergine avocado and 1 piece asparagus cucumber avocado.

Hot Food

Gohan

Assorted Tempura (4 pieces)

Prawn 3 pieces and veg 6 pieces.

Drinks

Desserts
Yenku Sushi has a FHRS rating of 5. This information was updated on 01/09/2022. The current rating is on their page on the FSA Website. Allergies, intolerances and dietary requirements: Before ordering, please contact the restaurant directly and ask to speak to a member of staff who can assist if you require information about ingredients and help cater for your needs. Adults need around 2000 kcal a day.
Frequently asked questions
Can I order Yenku Sushi takeaway in Leicester with Uber Eats?
Yes. Yenku Sushi takeaway is available on Uber Eats in Leicester.
Is Yenku Sushi delivery available near me?
Yenku Sushi delivery might not be available everywhere in Leicester, so enter your address to see if it's available near you.
How do I order Yenku Sushi takeaway online in Leicester?
There are 2 ways to place an order on Uber Eats: on the app or online using the Uber Eats website. After you've looked over the Yenku Sushi menu, simply choose the items you'd like to order and add them to your cart. Next, you'll be able to review, place and track your order.
What's the best thing to order for Yenku Sushi takeaway in Leicester?
What's best at Yenku Sushi is totally up to you and your personal preference. If you're in need of some inspiration, consider trying one of the items featured in 'Picked for you'.
How do I get $0 Delivery Fee at Yenku Sushi in Leicester?
The Delivery Fees may vary depending on a number of factors, like your location. Enter your Leicester address to see the current Delivery Fee. You can also explore the Uber Eats membership and subscription options available in your area to see if you can save money on Yenku Sushi delivery with $0 Delivery Fee on select orders.