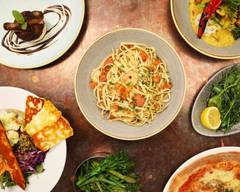 Location and hours
2 Newport Road, BUCKS, MK17 8LJ
Sunday
Closed
Monday - Thursday
12:00 - 21:30
Friday - Saturday
12:00 - 22:00
Too far to deliver
The Wavendon Arms
2 Newport Road, BUCKS, MK17 8LJ
Enter your address above to see fees and delivery + pick-up estimates.
Wish you could ask someone what's the best thing on the menu? Of the 80 items on the menu at this evening go-to, the Halloumi Fries is one of the items that gets the most orders. • ¢ •
Pizza
 • 
Burgers
 • 
Steak
 • 
Pub
 • 
Salads
 • 
Healthy
 • 
Fish & chips
Picked for you

SALTED CARAMEL BILLIONAIRES BAR (VE)

NOURISH BOWL WITH GRILLED HALLOUMI (V)

VEGANUARY

PLANT-BASED BURGER (VE) OR (V)

TO SHARE

FRESHLY STONEBAKED GARLIC & MOZZARELLA PIZZETTE (V)

SMALL PLATES

SMOKY JACKFRUIT BAO BUN (VE)

PANKO-CRUSTED FRIED BRIE (V)

ROASTED CARROT & CHICKPEA FALAFEL (VE)

CLASSIC MAINS

PANKO-BREADED CHICKEN MILANESE

FRESHLY BATTERED COD & CHIPS

SPICED COCONUT CURRY (VE)

KING PRAWN, CRAB & CHORIZO LINGUINE

DEVON CRAB & KING PRAWN HOMEMADE FISHCAKES

CANDIED ROOT VEGETABLE BAKE (VE)

ROTISSERIE, GRILL & STEAKS

MAPLE-GLAZED ROTISSERIE PORK BELLY

SALADS & HEALTHY MAINS

CHIPOTLE CHILLI BEEF FILLET SALAD

ASIAN-STYLE CRISPY DUCK SALAD

NOURISH BOWL WITH FALAFEL (VE)

NOURISH BOWL WITH JACKFRUIT (VE)

NOURISH BOWL WITH GRILLED CHICKEN BREAST

NOURISH BOWL WITH KING PRAWNS

NOURISH BOWL WITH LAMB KOFTA

NOURISH BOWL WITH GRILLED HALLOUMI (V)

NOURISH BOWL WITH BEEF FILLET

NOURISH BOWL WITH SALMON FILLET

BURGERS

PLANT-BASED BURGER (VE) OR (V)

PIZZAS

LIGHTER CRISPY DUCK PIZZA

LIGHTER MARGHERITA PIZZA (V)

SIDES

SAMPHIRE & BABY SPINACH (VE)

ROCKET SALAD WITH TOMATO, CUCUMBER, CAPERS, PINE NUTS & LEMON OLIVE OIL (VE)

BILLIONAIRES FRIES PARMESAN, PROSCIUTTO & TRUFFLE OIL

RUSTIC THICK-CUT CHIPS (V)

CRISPY BABY POTATOES (VE)

DESSERTS

WARM LEMON & BLUEBERRY POLENTA CAKE (VE)

SALTED CARAMEL BILLIONAIRES BAR (VE)

CHILDREN'S MENU

SPICED COCONUT CHICKEN CURRY

SPICED COCONUT CURRY (VE)

HOME-BAKED CHOCOLATE BROWNIE (V)
The Wavendon Arms has a FHRS rating of 4. This information was updated on 27/01/2022. The current rating is on their page on the FSA Website. We are not able to provide delivery and self-collection meals for guests with food allergies or intolerances at this time. However, we can cater for specific dietary requirements at our restaurant so please visit and eat in with us instead. Our kitchens use ingredients containing the following allergens: Celery, Cereals containing Gluten, Crustaceans, Egg, Fish, Lupin, Milk, Molluscs, Mustard, Nuts, Peanuts, Sesame, Soya and Sulphites (over 10ppm) and there is a risk of cross contamination from these allergens. For any questions regarding our dishes, please contact the restaurant directly. Click here if you would like to see detailed allergen information, including the allergen content of specific dishes.