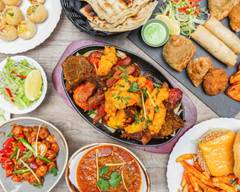 Location and hours
10, Victoria Street,, Wolverhampton, EMEA WV1 3NP
Sunday
12:30 - 21:00
Monday - Saturday
12:30 - 21:30
Too far to deliver
The Subcontinent
4.2 (25 ratings) • Indian • ¢¢ •
  •  
More info
10, Victoria Street,, Wolverhampton, EMEA WV1 3NP
Enter your address above to see fees and delivery + pick-up estimates.
Wish you could ask someone what to order here? Users love the Plain Naan, which is one of the most popular items on the menu at this evening go-to. • ¢¢ •
Indian
 • 
Vegetarian
 • 
Asian
 • 
Allergy friendly
Picked for you

Starters

Veg Starter Platter Large

Veg Starter Platter Small

Tandoori Chicken Wings - 6 Pcs

Achari Lamb Chops - 2 Pcs

Starter Chaats

Starter Wraps

Hakka Noodle Main course options

Hakka Chicken Tikka Noodle

Children's Menu

Chicken Nugget with Chips

Main & Sauce

Regional Dishes

Punjabi Chicken Tikka Masala

Hydrabadi Curry Leaves Chicken

Bengali Dhonepata (Corriander) Chicken

Awadhi Tandoor Fish Masala

Bengal Kaffir Lime Fish Curry

Spiced Rub Grilled Salmon (Main - 2 Pcs)

Chips & Burgers

Chicken Burger with Chips

Vegetable Burger with Chips

Vegan Quorn Burger with Chips

Rice & Biryani

Indian Breads

Additional Dishes & Vegan Items

Dhingri (Mushroom ) Matar Masala

Soft Drinks To Go

Bottle Beer

Estrella Damm 4.6% (ABV) - 330ml

Budweiser 5% (ABV) - 330ml

Corona 4.6% (ABV) - 330ml

Peroni 4.7% (ABV) - 330ml

Smirnoff Ice 4% (ABV) - 275ml

Bottle Cider

Bulmers Original 4% (ABV) - 500ml

Bulmers Red Berries 4% (ABV) - 500ml

Doom Bar Ale 4.3% (ABV) - 500ml

IPA Brewdog Punk 5.6% (ABV) - 330ml

Red Wine Bottles

Vina Elsiete Rioja 13% (ABV)

Errazuriz Merlot 75cl 13.5% (ABV)

120 Carmenere 75cl 13.5% (ABV)

Guigal Cotes Du Rohne 75cl 14% (ABV)

Roses Wine Bottles

Silver Ghost Pinotage Rose 11.5% (ABV)

Yellow Tail Grenache Rose 12% (ABV)

Non alcoholic beverages

J20 -275ml (Orange & Passionfruit)

J20 -275ml ( Apple Mango )

J20 -275ml ( Apple Raspberry)

Schweppes Lemonade - 200ml

Schweppes Ginger Ale - 200ml

White Wine Bottles

Yellow Tail Chardonnay75cl (13% ABV)

Castway Island Chardonnay75cl (13% ABV)

Silver Ghost Sav Blanc 75cl (12% ABV)

Cotes Du Rohne White 75cl (13%ABV)
The Subcontinent has a FHRS rating of 5. This information was updated on 18/01/2022. The current rating is on their page on the FSA Website. Allergies, intolerances and dietary requirements: Before ordering, please contact the restaurant directly and ask to speak to a member of staff who can assist if you require information about ingredients and help cater for your needs.