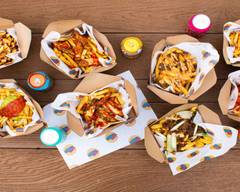 Location and hours
81 Palmerston Rd, Southsea, Portsmouth, Hampshire PO5 2
Too far to deliver
The One Stop Atomic Fries Shop
81 Palmerston Rd, Southsea, Portsmouth, Hampshire PO5 2
Enter your address above to see fees and delivery + pick-up estimates.
🍟 Takeaway Top Fries 🍟

🐔 Chicken Top Fries 🐔

🔥 Hot Top Fries 🔥

Buff Fries

Vampire Fries

Your Chips are on Fries

🥗 Veggie Top Fries 🥗

Bean to the Chippy

Guac-ing Good Fries

Hummm Those are Some Tasty Fries

Nat Yo! Fries

Practically a Salad* Fries

Sweet Hellos

🎉 Atomic Extras 🎉
The One Stop Atomic Fries Shop has a FHRS rating of 4. This information was updated on 22/09/2021. The current rating is on their page on the FSA Website. Allergies, intolerances and dietary requirements: Before ordering, please contact the restaurant directly and ask to speak to a member of staff who can assist if you require information about ingredients and help cater for your needs.