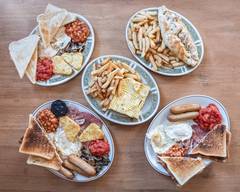 Location and hours
40 Dudley Rd, Stourbridge, DY9 8EE
Sunday
08:30 - 11:15
Monday - Tuesday
Closed
Wednesday - Saturday
08:30 - 11:15
Too far to deliver
The Cafe
4.7 (36 ratings) • Breakfast & brunch • ¢
  •  
More info
40 Dudley Rd, Stourbridge, DY9 8EE
Enter your address above to see fees and delivery + pick-up estimates.
This place is among the 3 most popular Breakfast Brunch takeaway spots in all of Stourbridge. One of the most ordered items on the menu among Uber Eats users is the Large Breakfast and the 2 Slices Bacon and the Bacon and the Egg & Mushroom are two of the items most commonly ordered together at this morning go-to. • ¢ •
Breakfast & brunch
 • 
Cafe
 • 
Coffee & tea
 • 
Sandwich
Picked for you

Big Breakfast

Breakfast

Hot Sandwiches

THE BIG SANDWICH - 4 SLICES

Bacon, Sausage and Tomatoes

Egg, Mushroom & Hashbrown

Cheese and Beans on Toast

Hashbrown, Egg & mushrooms

Pulled Pork stuffing and gravy

Cold Drinks

Tango Orange Bottle, 1.5L
The Cafe has a FHRS rating of 5. This information was updated on 18/01/2022. The current rating is on their page on the FSA Website. Allergies, intolerances and dietary requirements: Before ordering, please contact the restaurant directly and ask to speak to a member of staff who can assist if you require information about ingredients and help cater for your needs.
£0 Delivery Fee (spend £15)