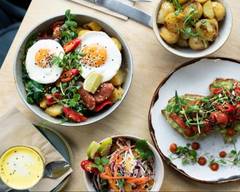 Location and hours
32 Egremont Place, Brighton, BN2 0
Starfish & Coffee
Enter your address above to see fees and delivery + pick-up estimates.
Picked for you

Vegan Breakfast

Veggie Breakfast

Chorizo Hash

Cumberland Sausage & Fried Egg Toastie

Pastries

Flour Pot Bakery Almond Croissant

Flour Pot Bakery Pain Au Chocolate

Breakfast

Veggie Breakfast

Vegan Breakfast

Hash Bowls

Chorizo Hash

Mushroom Hash

Pancakes

Buddah Bowls

Buddah Bowl

Extras

Upgrade to Gluten Free Toast

Toasties

Holmansbridge Farm Fried Egg Toastie

Dry Cured Bacon & Fried Egg Toastie

Cumberland Sausage & Fried Egg Toastie

Sweet Things

Oat & Nut Bar

Raspberry & White Chocolate Brownie

Chocolate Tiffin

Coffee

Cold Drinks

Sipsup Brighton Raspberry Lemonade
Starfish & Coffee has a FHRS rating of 4. This information was updated on 25/05/2022. The current rating is on their page on the FSA Website. Allergies, intolerances and dietary requirements: Before ordering, please contact the restaurant directly and ask to speak to a member of staff who can assist if you require information about ingredients and help cater for your needs. Adults need around 2000 kcal a day.